Civ 6 Tier List April 2023: we decided to put together the ultimate Civ 6 Tier List. We will be ranking everything from leaders and civilizations, to pantheons, to wonders and natural wonders for the complete game.
Civ 6 Tier List (Civilization 6) April 2023
Without further ado, see below for the final Civ 6 tier list where we ranked 58 leaders and civilizations to see who is the best and the worst. Scroll down further to see a breakdown by type of win.
S-Tier
Japan (Hojo Tokimune)
Russia (Peter)
Portugal (João III)
Australia (John Curtin)
Maori (Kupe)
America (Bullmoose Teddy)
A-Tier
Greece (Gorgo)
Hungary (Matthias Corvinus)
Egypt (Cleopatra)
Gran Columbia (Simon Bolivar)
Brazil (Pedro II)
Persia (Cyrus)
Arabia (Saladin)
America (Rough Rider Teddy)
B-Tier
Korea (Seondeok)
Greece (Pericles)
Ethiopia (Menelik II)
Maya (Lady Six Sky)
Phoenician (Dido)
Sumeria (Gilgamesh)
Babylon (Hammurabi)
Khmer (Jayavarman VII)
Mali (Mansa Musa)
China (Qin Shi Huang)
China (Kublai Khan)
Spain (Phillip II)
C-Tier
Inca (Pachacuti)
Dutch (Wilhelmina)
Nubia (Amanitore)
Aztec (Montezuma)
Byzantium (Basil II)
Polish (Jadwiga)
Georgia (Tamar)
D-Tier
Vietnam (Bà Triệu)
Indonesia (Gitarja)
Germany (Frederick Barbarossa)
Rome (Trajan)
Sweden (Kristina)
Canada (Wilfrid Laurier)
France (Catherine de Medici)
Ottoman (Suleiman)
F-Tier
England (Victoria)
France (Magnificence Catherine)
Mongolia (Genghis Khan)
Mongolia (Kublai Khan)
Zulu (Shaka)
Macedon (Alexander)
Gaul (Ambiorix)
Mapuche (Lautaro)
England (Eleanor of Aquitaine)
Scythia (Tomyris)
Kongo (Mvemba a Nzinga)
LOL-Tier
France (Eleanor Aquitaine)
Scotland (Robert the Bruce)
Cree (Poundmaker)
India (Ghandi)
Norway (Harald Hardrada)
India (Chandragupta)
Civ 6 Tier List: Best Leaders and Civilizations by Victory Condition
Victory Type Legend: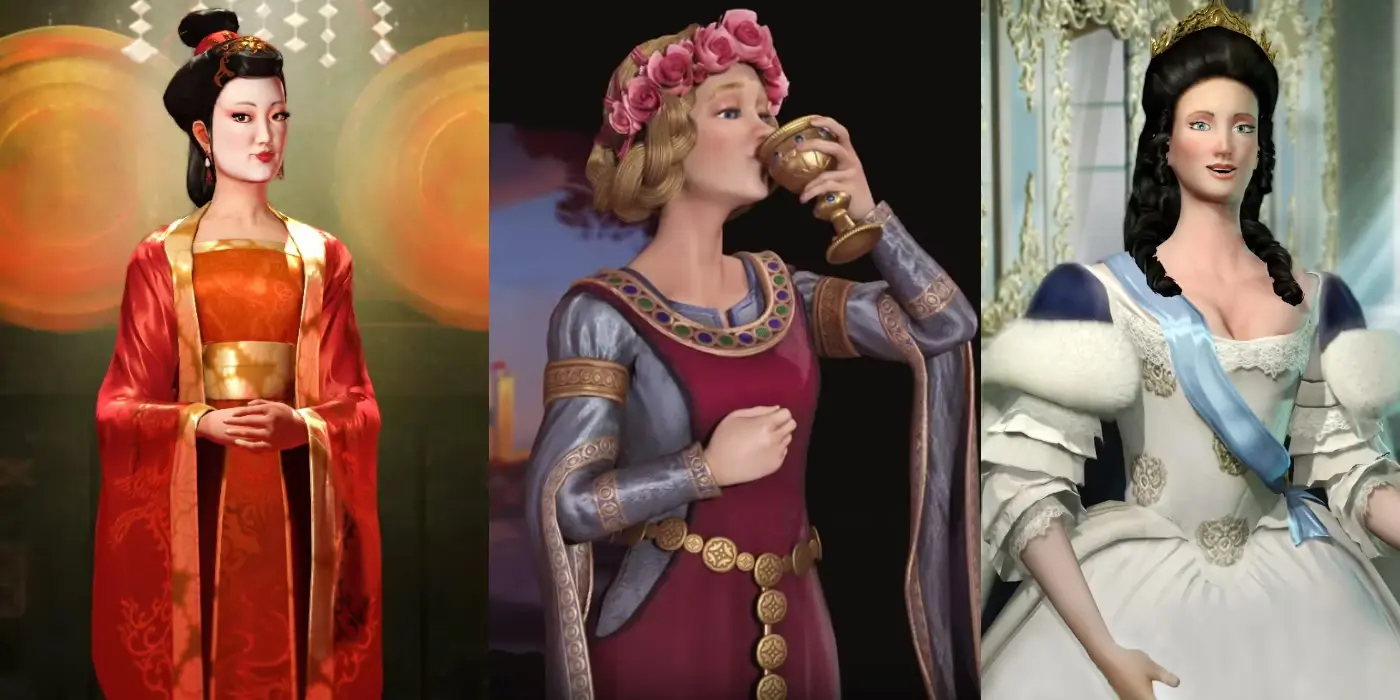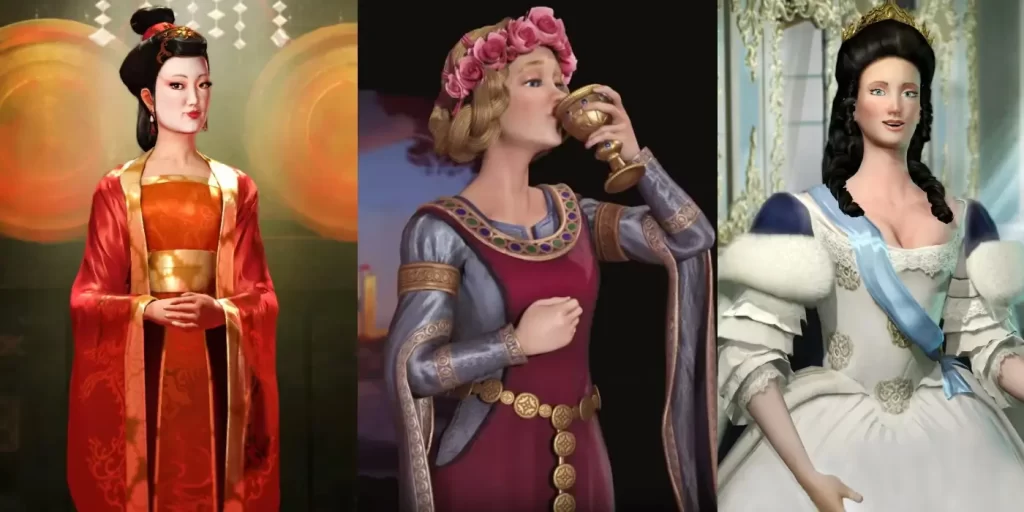 Dom: Domination
Sci: Science
Cul: Culture
Reli: Religion
Dipl: Diplomacy
Gol: Gold
Tot: Total
Also, Click Here: Top most popular Video Games 2022
| | | | | | | | | |
| --- | --- | --- | --- | --- | --- | --- | --- | --- |
| Civilization | Dom | Sci | Cul | Reli | Dipl | Gold | Total | Tier |
| Japan (Hojo Tokimune) | 7 | 7 | 7 | 7 | 4 | 6 | 38 | S |
| Russia (Peter) | 7 | 5 | 8 | 8 | 4 | 5 | 37 | S |
| Portugal (João III) | 5 | 8 | 7 | 4 | 5 | 8 | 37 | S |
| Australia (John Curtin) | 5 | 8 | 7 | 6 | 5 | 6 | 37 | S |
| Maori (Kupe) | 5 | 6 | 8 | 8 | 4 | 6 | 37 | S |
| America (Bullmoose Teddy) | 5 | 7 | 8 | 5 | 8 | 4 | 37 | S |
| Greece (Gorgo) | 6 | 5 | 8 | 4 | 8 | 5 | 36 | A |
| Hungary (Matthias Corvinus) | 8 | 7 | 4 | 4 | 7 | 6 | 36 | A |
| Egypt (Cleopatra) | 6 | 4 | 8 | 6 | 6 | 6 | 36 | A |
| Gran Columbia (Simon Bolivar) | 8 | 6 | 6 | 6 | 4 | 6 | 36 | A |
| Brazil (Pedro II) | 4 | 7 | 8 | 7 | 4 | 6 | 36 | A |
| Persia (Cyrus) | 7 | 5 | 8 | 4 | 4 | 8 | 36 | A |
| Arabia (Saladin) | 6 | 8 | 6 | 8 | 4 | 4 | 36 | A |
| America (Rough Rider Teddy) | 6 | 6 | 7 | 4 | 8 | 5 | 36 | A |
| Korea (Seondeok) | 7 | 8 | 7 | 4 | 5 | 4 | 35 | B |
| Greece (Pericles) | 5 | 5 | 8 | 4 | 8 | 5 | 35 | B |
| Ethiopia (Menelik II) | 6 | 6 | 6 | 8 | 5 | 4 | 35 | B |
| Maya (Lady Six Sky) | 6 | 8 | 5 | 5 | 5 | 6 | 35 | B |
| Phoenician (Dido) | 6 | 6 | 7 | 5 | 4 | 7 | 35 | B |
| Sumeria (Gilgamesh) | 7 | 8 | 6 | 4 | 5 | 5 | 35 | B |
| Babylon (Hammurabi) | 7 | 7 | 6 | 5 | 5 | 5 | 35 | B |
| Khmer (Jayavarman VII) | 6 | 6 | 7 | 8 | 4 | 4 | 35 | B |
| Mali (Mansa Musa) | 3 | 5 | 6 | 8 | 5 | 8 | 35 | B |
| China (Qin Shi Huang) | 4 | 7 | 8 | 5 | 5 | 6 | 35 | B |
| China (Kublai Khan | 4 | 7 | 7 | 5 | 5 | 7 | 35 | B |
| Spain (Phillip II) | 7 | 7 | 4 | 6 | 4 | 7 | 35 | B |
| Inca (Pachacuti) | 6 | 7 | 6 | 7 | 4 | 4 | 34 | C |
| Dutch (Wilhelmina) | 6 | 8 | 6 | 3 | 4 | 7 | 34 | C |
| Nubia (Amanitore) | 7 | 7 | 5 | 6 | 4 | 5 | 34 | C |
| Aztec (Montezuma) | 8 | 7 | 5 | 6 | 3 | 5 | 34 | C |
| Byzantium (Basil II) | 8 | 5 | 5 | 8 | 3 | 5 | 34 | C |
| Polish (Jadwiga) | 7 | 4 | 5 | 7 | 4 | 7 | 34 | C |
| Georgia (Tamar) | 4 | 5 | 6 | 7 | 8 | 4 | 34 | C |
| Vietnam (Bà Triệu) | 7 | 6 | 8 | 4 | 4 | 4 | 33 | D |
| Indonesia (Gitarja) | 6 | 6 | 5 | 7 | 4 | 5 | 33 | D |
| Germany (Frederick Barbarossa) | 8 | 7 | 6 | 4 | 2 | 6 | 33 | D |
| Rome (Trajan) | 7 | 6 | 6 | 4 | 4 | 6 | 33 | D |
| Sweden (Kristina) | 4 | 6 | 8 | 3 | 8 | 4 | 33 | D |
| Canada (Wilfrid Laurier) | 4 | 5 | 8 | 4 | 8 | 4 | 33 | D |
| France (Catherine de Medici) | 6 | 5 | 8 | 4 | 4 | 5 | 32 | D |
| Ottoman (Suleiman) | 8 | 6 | 6 | 4 | 3 | 5 | 32 | D |
| England (Victoria) | 7 | 7 | 5 | 3 | 1 | 8 | 31 | F |
| France (Magnificence Catherine) | 5 | 5 | 8 | 4 | 4 | 5 | 31 | F |
| Mongolia (Genghis Khan) | 8 | 6 | 6 | 5 | 2 | 4 | 31 | F |
| Mongolia (Kublai Khan) | 6 | 6 | 6 | 5 | 3 | 5 | 31 | F |
| Zulu (Shaka) | 8 | 6 | 6 | 4 | 2 | 5 | 31 | F |
| Macedon (Alexander) | 8 | 7 | 6 | 4 | 2 | 4 | 31 | F |
| Gaul (Ambiorix) | 8 | 7 | 5 | 4 | 2 | 4 | 30 | F |
| Mapuche (Lautaro) | 7 | 5 | 6 | 5 | 3 | 4 | 30 | F |
| England (Eleanor of Aquitaine) | 5 | 6 | 6 | 3 | 3 | 7 | 30 | F |
| Scythia (Tomyris) | 7 | 4 | 5 | 7 | 3 | 4 | 30 | F |
| Kongo (Mvemba a Nzinga) | 5 | 6 | 7 | 1 | 4 | 7 | 30 | F |
| France (Eleanor Aquitaine) | 5 | 4 | 8 | 4 | 4 | 4 | 29 | LOL |
| Scotland (Robert the Bruce) | 5 | 8 | 4 | 3 | 4 | 5 | 29 | LOL |
| Cree (Poundmaker) | 4 | 6 | 4 | 4 | 4 | 7 | 29 | LOL |
| India (Ghandi) | 3 | 5 | 5 | 8 | 4 | 4 | 29 | LOL |
| Norway (Harald Hardrada) | 6 | 4 | 4 | 6 | 1 | 7 | 28 | LOL |
| India (Chandragupta) | 7 | 4 | 4 | 7 | 2 | 4 | 28 | LOL |
Civ 6 Tier List (Civilization 6)
Civ 6 Tier List: Civ Ability Rankings
UA: Unique Ability
LA: Leader Ability
UB: Unique Building
UD: Unique District
UI: Unique Improvement
UU: Unique Unit
| | | | | | |
| --- | --- | --- | --- | --- | --- |
| Civilization | Cat. | Name | Ability | Victory | Score |
| America / Teddy Roosevelt | LA | Roosevelt Corollary | Units receive a +5 Combat Strength bonus on their home continent. +1 Appeal to all tiles in a city with a National Park. | Domination | 7 |
| America | UU | P-51 Mustang | Fighter replacement. Higher Combat Strength (105 vs. 100) and Ranged Strength (105 vs. 100). Higher Movement (6 vs. 4). Gains +5 attack against fighter aircraft. Gains +50% experience. | Domination | 3 |
| America | UA | Founding Fathers | All Diplomatic policy slots in the current government are converted to Wildcard policy slots. +1 Diplomatic Favor per turn for each Wildcard slot in their government. | Diplomatic | 8 |
| America | UB | Film Studio | Broadcast center replacement. 100% Tourism pressure from this city towards other civilizations starting from the Modern Era. | Culture | 8 |
| America / Rough Rider Teddy | LA | Roosevelt Corallary | Units receive a +5 Combat Strength bonus on their home continent. Envoys sent to City-States you have a Trade-Route to count as two Envoys. Gain the Rough Rider unique unit with Rifling. | Diplomatic | 7 |
| America / Rough Rider Teddy | UU | Rough Rider | Unique Heavy Cavalry. Earns Culture from kills on its Capital's continent. Gains +10 Combat Strength when fighting on Hills. Low Gold maintenance cost. No strategic resource requirement. | Culture | 4 |
| Arabia | UA | The Last Prophet | Automatically receives the final Great Prophet when the next-to-last one is claimed (if one has not been earned already). +1 Science per foreign city following Arabia's Religion. | Science | 5 |
| Arabia | UU | Mamluk | Knight replacement. Heals at the end of every turn, even if it moves or attacks an enemy unit. | Domination | 6 |
| Arabia | UB | Madrasa | University replacement. +5 Science. Provides bonus Faith equal to the adjacency Science bonus of its district | Science | 7 |
| Arabia / Saladin | LA | Righteousness of the Faith | The Worship building for Arabia's Religion can be purchased at 10% of the usual Faith cost, and grants Arabian cities with it +10% Science, Faith, and Culture. | Science | 8 |
| Australia | UI | Outback Station | +1 Food +1 Production +0.5 Housing +1 Food from every adjacent Pasture. +1 ​ Production to every adjacent ​Pasture (with Steam Power) +1 Production from every 2 adjacent Outback Stations (with Steam Power) +1 Food from every 2 adjacent Outback Stations (with Rapid Deployment) | Any | 6 |
| Australia / John Curtin | LA | Citadel of Civilization | +100% Production in all cities if they have either received a declaration of war or liberated a city in the past 10 turns. | Any | 7 |
| Australia | UA | Land Down Under | +3 Housing in coastal cities. Building a Pasture triggers a Culture Bomb, claiming surrounding tiles. Campus, Commercial Hub, Holy Site, and Theater Square districts gain +1 to their yields in tiles with Charming Appeal, and +3 with Breathtaking Appeal. | Any | 8 |
| Australia | UU | Digger | Infantry replacement. Higher Combat Strength (72 vs. 70). +10 Combat Strength on coastal tiles. +5 Combat Strength outside Australian territory. No strategic resource requirement. | Domination | 8 |
| Aztec | UB | Tlachtli | Arena with +2 Faith +1 Great General point per turn. | Any | 2 |
| Aztec / Montezuma | LA | Gifts for the Tlatoani | Improved Luxury resources provide an Amenity to 2 extra cities. +1 Combat Strength for all units for each different improved Luxury resource in Aztec territory. | Domination | 8 |
| Aztec | UA | Legend of the Five Suns | Can spend Builder charges to complete 20% of a district's Production cost. | Any | 8 |
| Aztec | UU | Eagle Warrior | Warrior replacement. Higher Production cost (65 vs. 40). Higher Combat Strength (28 vs. 20). Can capture defeated enemy units, turning them into Builders for the Aztecs. | Domination | 8 |
| Brazil | UU | Minas Geraes | Battleship replacement. Higher Combat Strength (70 vs. 60), Ranged Strength (80 vs. 70), and Anti-Air Strength (95 vs. 90). | Domination | 4 |
| Brazil | UD | Street Carnival / Copacobana | Entertainment/Water park district replacement. +2 Amenities from entertainment to parent city. Special Project which provides +1 additional Amenities Amenity while developed and earns Engineer Great Engineer, Merchant Great Merchant, Writer Great Writer, Artist Great Artist, & Musician Great Musician points upon completion. | Culture | 5 |
| Brazil / Pedro II | LA | Magnanimous | Recruiting or patronizing a Great Person refunds 20% of their point cost. | Culture | 6 |
| Brazil | UA | Amazon | Rainforest tiles provide a +1 adjacency bonus for Campus, Commercial Hub, Holy Site, and Theater Square districts, and grant +1 Appeal to adjacent tiles, instead of the usual -1. | Culture | 7 |
| Canada / Wilfrid Laurier | LA | The Last Best West | Can build Farms on Tundra tiles, and on Tundra Hills tiles with Civil Engineering. Snow, Snow Hills, Tundra Hills, and Tundra tiles cost 50% less Gold to purchase. On those tiles, resources accumulate twice as fast, Mines and Lumber Mills receive +1 Production and Camps receive +1 Food. | Any | 5 |
| Canada | UA | Four Faces of Peace | Cannot declare Surprise Wars or war on City-States. Surprise Wars cannot be declared on Canada. For every 100 Tourism earned, gain +1 Diplomatic Favor. +100% Diplomatic Favor gained from succesfully completing Emergencies and Competitions. | Diplomatic | 5 |
| Canada | UI | Ice Hockey Rink | +1 Amenity +2 Appeal to surrounding tiles +1 Culture for each adjacent Tundra, Tundra Hills, Snow, and Snow Hills tile. +2 Food and Production (with Professional Sports) +4 Culture if adjacent to a Stadium | Culture | 7 |
| Canada | UU | Mountie | Unique light cavalry. +5 Combat Strength when within 2 tiles of a National Park. +5 additional Combat Strength if the park is Canadian. Low Gold maintenance cost. Can establish a National Park. | Domination | 8 |
| China | UU | Crouching Tiger | Unique ranged unit. Range of 1 and 50 combat strength. | Domination | 3 |
| China | UA | Dynastic Cycle | Eurekas and Inspirations provide an extra 10% of the Science and Culture cost for researching technologies and civics. | Culture | 7 |
| China / Qin Shi Huang | LA | The First Emperor | Builders receive an additional build charge. Can spend Builder charges to complete 15% of the Production cost for Ancient and Classical wonders. Canals are unlocked with Masonry, instead of Steam Power. | Culture | 7 |
| China / Kublai Khan | LA | Gerege | Gain an additional Economic policy slot in all Governments. Gain a random Eureka and Inspiration Inspiration upon first establishing a Trading Post in another major civilization's city. | Any | 8 |
| China | UI | Great Wall | Occupying unit receives +4 Defense Strength and automatically gains 2 turns of fortification (+6 Defense Strength). +2 Gold +2 Gold for each adjacent Great Wall +2 Culture for each adjacent Great Wall (with Castles). Can only be pillaged but never removed by disasters. | Culture | 7 |
| Cree | UA | Nîhithaw | Gains +1 Trade Route capacity and a free Trader with Pottery. Unclaimed tiles within three tiles of a Cree city come under Cree control when a Trader first moves into them. | Any | 5 |
| Cree | UU | Okihtcitaw | Scout replacement. Higher Production cost (40 vs. 30). Higher Combat Strength (20 vs. 10). Starts with one free promotion. | Any | 5 |
| Cree / Poundmaker | LA | Favorable Terms | All Alliance types provide Shared Visibility. Trade Routes gain +1 Food per Camp or Pasture at the destination city. Trade Routes sent to Cree cities grant +1 Gold per Camp or Pasture at the destination city. | Any | 6 |
| Cree | UI | Mekewap | +1 Production +1 Housing +1 Gold if adjacent to a Luxury Resource +1 Food for every two adjacent Bonus Resources. +1 additional Production and Housing (with Civil Service) +2 additional Gold for each adjacent Luxury Resources (with Cartography) +1 Food for each adjacent Bonus Resource (with Conservation) | Any | 7 |
| Dutch / Wilhelmina | LA | Radio Oranje | Domestic Trade Routes provide +1 Loyalty per turn for the starting city. Trade Routes sent to or received from a foreign civilization grant +1 Culture to the Netherlands. | Culture | 3 |
| Dutch | UU | De Zeven Provinciën | Higher Combat Strength (50 vs. 45) and Ranged Strength (60 vs. 55). Receives a +7 bonus when attacking defensible districts. | Domination | 5 |
| Dutch | UI | Polder | +1 Food +1 Food for every adjacent Polder +1 Production +0.5 Housing +4 Gold (with Civil Engineering) +2 Food for every adjacent Polder (with Replaceable Parts) +1 Production for every adjacent Polder (with Replaceable Parts) Increases Movement cost of tile to 3. | Any | 6 |
| Dutch | UA | Grote Rivieren | Rivers provide a +2 adjacency bonus for Campus, Theater Square, and Industrial Zone districts. Building a Harbor triggers a Culture Bomb, claiming surrounding tiles. +50% Production toward the Dam district and Flood Barrier building. | Science | 8 |
| Egypt / Cleopatra | LA | Mediterranean 's Bride | International Trade Routes grant +4 Gold. Trade Routes sent to Egypt from other civilizations provide +2 Food for them and +2 Gold for Egypt. +100% Alliance Points from trading with allies. | Diplomatic | 5 |
| Egypt | UA | Iteru | +15% Production towards districts and wonders built next to a River. Floodplains don't prevent placement of districts and wonders. Districts, improvements and units are immune to damage from floods. | Culture | 7 |
| Egypt | UI | Sphinx | +1 Culture +2 Appeal +1 Faith +2 additional Faith if placed next to a Wonder +1 additional Culture if built on Floodplains +1 Culture (requires Natural History) | Culture | 7 |
| Egypt | UU | Maryannu Chariot Archer | Unique ranged unit. Higher Production cost (120 vs. 60). Higher maintenance cost (2 vs. 1). Higher melee strength (25 vs. 15).Higher ranged strength (35 vs. 25). Gains +2 Movement points if it starts on flat terrain. | Domination | 8 |
| England | UU | Sea Dog | Privateer replacement. Can capture adjacent enemy naval units. (Doesn't work for Barbarian or city-state ships.) | Domination | 4 |
| England / Eleanor of Aquitane | LA | Court of Love | Each Great Work in her cities causes foreign cities within 9 tiles to lose 1 Loyalty per turn. Any foreign city that leaves its civilization due to loss of Loyalty and is receiving the most Loyalty pressure from Eleanor instantly joins her empire, instead of becoming a Free City. | Domination | 5 |
| England | UA | Workshop of the World | Iron and Coal Mines accumulate +2 resources per turn. +100% Production towards Military Engineers. Military Engineers receive +2 charges. Buildings that provide additional yields when powered receive +4 of their respective yields. +20% Production towards Industrial Zone buildings. Harbor buildings grant +10 Strategic Resource stockpiles. | Science | 6 |
| England | UD | Royal Navy Dockyard | +1 Movement for all units built in Dockyard. +2 Gold when built on a foreign continent. +2 Great Admiral points per turn. +4 Loyalty when built on a foreign continent. | Domination | 6 |
| England / Victoria | LA | Pax Britannica | The first city founded on each continent other than their home continent grants a free melee unit in that city and +1 Trade Route capacity. Building a Royal Navy Dockyard grants a free naval unit in that city. Gain the Redcoat unique unit with Military Science. | Domination | 7 |
| England / Victoria | UU | Redcoat | Unique melee unit. +10 Combat Strength when fighting on a continent other than the English Capital's. No cost to disembark. | Domination | 7 |
| France / Eleanor of Aquitane | LA | Court of Love | Each Great Work in her cities causes foreign cities within 9 tiles to lose 1 Loyalty per turn. Any foreign city that leaves its civilization due to loss of Loyalty and is receiving the most Loyalty pressure from Eleanor instantly joins her empire, instead of becoming a Free City. | Domination | 5 |
| France | UU | Garde Impériale | Unique melee unit. '+10 Combat Strength on the starting Capital's home continent. Earns Great General points from kills. | Domination | 6 |
| France | UA | Grand Tour | +20% Production towards Medieval, Renaissance, and Industrial Wonders. Double Tourism from Wonders of any era. | Culture | 6 |
| France / Catherine De Medici | LA | Catherine's Flying Squadron | Has an extra level of Diplomatic Visibility with every civilization she's met. Receives a free Spy (and extra Spy capacity) with Castles. All Spies start with a free promotion. | Domination | 7 |
| France | UI | Château | +2 Culture +1 Appeal +1 Culture for each adjacent Wonder, doubling to +2 with Flight. +1 Gold for each adjacent luxury resource | Culture | 7 |
| France / Magnificence Catherine | LA | Catherine's Magnificence | Improved Luxury resources adjacent to Theater Square districs or Chateaux receive +2 Culture. May initiate the Court Festival project in any city with a Theater Square district | Culture | 8 |
| Georgia | UB | Tsikhe | Lower Production cost (265 vs. 305). +4 Faith +200 Outer Defense Strength. When in a Golden Age, Tourism and Faith are +100%. | Culture | 3 |
| Georgia | UU | Khevsur | Unique melee unit. 45 combat strength +7 Combat Strength and no Movement penalties in Hills. | Domination | 3 |
| Georgia | UA | Strength in Unity | When making Dedications at the beginning of a Golden Age or Heroic Age, receive the Normal Age bonus towards improving Era Score in addition to the other bonus. Construct walls 50% faster. | Any | 5 |
| Georgia / Tamar | LA | Glory of the World, Kingdom and Faith | +100% Faith for the next 10 turns after declaring a Protectorate War. Each Envoy sent to a city-state of Georgia's majority Religion counts as two Envoys. | Diplomatic | 7 |
| Germany | UU | U-Boat | Lower Production cost (430 vs. 480). Gains +1 Sight and +10 Combat Strength when fighting on Ocean tiles. | Domination | 3 |
| Germany / Frederick Barbarossa | LA | Holy Roman Emperor | Gain an additional Military policy slot in all Governments. All units gain +7 Combat Strength when attacking city-states. | Domination | 6 |
| Germany | UA | Free Imperial Cities | Each city can build one more district than the population limit would normally allow. | Any | 8 |
| Germany | UD | Hansa | Major bonus (+2) to Production yield for each adjacent Commercial Hub. Standard bonus (+1) to Production yield for each adjacent resource. | Science | 8 |
| Greece | UU | Hoplite | Spearman replacement. +10 Combat Strength when adjacent to at least one other Hoplite. | Domination | 5 |
| Greece / Gorgo | LA | Thermopylae | Killing a unit provides Culture equal to 50% of its Combat Strength. | Culture | 8 |
| Greece / Pericles | LA | Surrounded by Glory | +5% Culture per city-state Greece has Suzerainty over. | Culture | 8 |
| Greece | UA | Plato's Republic | Gain an additional Wildcard policy slot in all Governments. | Any | 8 |
| Greece | UD | Acropolis | Theater Square replacement. Receives a Major bonus (+2) to Culture yield for being adjacent to the City Center Awards 1 Envoy when completed +1 Culture from each adjacent District | Culture | 8 |
| Hungary | UU | Huszár | Coursier replacement. Higher Production cost (335 vs. 330). Higher Combat Strength (65 vs. 62). +3 Combat Strength for every active Alliance. | Domination | 4 |
| Hungary | UB | Thermal Bath | +2 Amenities from entertainment +2 Production. This bonus extends to each City Center within 6 tiles. +3 Tourism and +2 additional Amenities to this city if there is at least one Geothermal Fissure within its borders. | Domination | 6 |
| Hungary / Matthias Corvinus | UU | Black Army | Cavalry replacement. Higher Production cost (205 vs. 200). Higher Combat Strength (47 vs. 44). +3 Combat Strength for each adjacent Levied unit. | Domination | 7 |
| Hungary | UA | Pearl of the Danube | +50% Production for districts and buildings built across a river from a City Center. | Any | 7 |
| Hungary / Matthias Corvinus | LA | Raven King | Levied city-state units gain +2 Movement and +5 Combat Strength, and can be upgraded at a 75% discount in Gold and resources. Levying troops from a city-state grants 2 Envoys with that city-state. Gain the Black Army unique unit with Castles. | Domination | 8 |
| Inca / Pachacuti | LA | Qhapaq Ñan | Domestic Trade Routes gain +1 Food for every Mountain tile in the origin city. Gain the Qhapaq Ñan unique improvement with Foreign Trade. | Any | 6 |
| Inca / Pachacuti | UI | Qhapaq Ñan | Allows units to move into it and exit through another Qhapaq Ñan at the cost of 2 Movement. | Any | 6 |
| Inca | UA | Mit'a | Citizens may work Mountain tiles. Mountain tiles provide +2 Production, and +1 Food for each adjacent Terrace Farm. | Any | 7 |
| Inca | UU | Warak'aq | Skirmisher replacement. Higher Production cost (165 vs. 150). Higher Ranged Strength (40 vs. 30). Can make 1 additional attack per turn if Movement allows. | Domination | 7 |
| Inca | UI | Terrace Farm | Unique farm. +1 Food for each adjacent Mountain +2 Production for each adjacent Aqueduct +1 Production if adjacent to fresh water and not an Aqueduct | Any | 8 |
| India / Ghandi | LA | Satyagraha | +5 Faith for each met civilization (including India) that has founded a Religion and is not at war. Enemies receive double war weariness from fighting against Gandhi. | Religion | 5 |
| India | UI | Stepwell | +1 Food +1 Housing +1 Faith if adjacent to a Holy Site +1 Food if adjacent to a Farm +1 Faith (requires Feudalism) +1 Housing (requires Sanitation) +1 Food (requires Professional Sports) Prevents Food loss from droughts. | Religion | 5 |
| India | UU | Varu | Unique Heavy Cavaly. Lower Combat Strength (40 vs. 48). Lower Movement (2 vs. 4). Lower Production cost (120 vs. 220). Reduces the Combat Strength of adjacent enemy units by 5 | Domination | 6 |
| India | UA | Dharma | Cities receive +1 Amenity for each religion with at least one follower in them. +2 Spread Religion charges for Missionaries. +100% Religious pressure from Indian Trade Routes. | Religion | 7 |
| India / Chandragupta | LA | Arthashastra | Can declare a War of Territorial Expansion with Military Training, instead of Mobilization. +2 Movement and +5 Combat Strength for all units for the next 10 turns after declaring a War of Territorial Expansion. | Domination | 8 |
| Indonesia | UA | Great Nusantara | Coast and Lake tiles provide a +0.5 adjacency bonus for Holy Site, Campus, Industrial Zone, and Theater Square districts. Entertainment Complexes built adjacent to a Coast or Lake tile provide +1 Amenity. | Any | 6 |
| Indonesia / Gitarja | LA | Exalted Goddess of the Three Worlds | May purchase naval units with Faith. Religious units pay no movement cost to embark or disembark. City Centers adjacent to Coast or Lake tiles gain +2 Faith. | Religion | 7 |
| Indonesia | UI | Kampung | +1 Production +1 Housing +1 Food from every adjacent Fishing Boats +1 Housing (with Mass Production) +1 Production (with Civil Engineering) +1 Tourism from every bonus Food (with Flight) | Any | 7 |
| Indonesia | UU | Jong | Higher Production cost (300 vs. 280). Higher Movement (5 vs. 4). When in formation, +5 Combat Strength and shares its Movement with all units in the formation. No strategic resource requirement. | Domination | 7 |
| Japan | UU | Samurai | Unique melee unit. Higher production cost (160 vs. 90). Higher combat strength (48 vs. 36). Does not suffer combat penalties when damaged. | Domination | 4 |
| Japan | UB | Electronics Factory | Factory replacement. +3 Production to all City Centers within 6 tiles of the Electronics Factory's Industrial Zone. +5 Production additionally when Powered. +4 Culture (after researching Electricity) | Science | 5 |
| Japan / Hojo Tokimune | LA | Divine Wind | Land units in Coastal tiles and naval units in Coast tiles receive +5 Combat Strength. +50% Production towards Encampment, Holy Site and Theater Square districts. Districts, improvements and units are immune to damage from Hurricanes. +100% damage from Hurricanes in Japanese territory to civilizations at war with Japan. | Culture | 8 |
| Japan | UA | Meiji Restoration | Districts recieve a +1 adjacency bonus for each adjacent district, instead of +0.5. | Any | 8 |
| Khmer / Jayavarman VII | LA | Monasteries of the King | Holy Sites provide +2 Food and +1 Housing if adjacent to a river. Building a Holy Site triggers a Culture Bomb, claiming surrounding tiles. | Religion | 4 |
| Khmer | UA | Grand Barays | Aqueducts provide +3 Faith and +1 Amenity. Farms receive +2 Food if adjacent to an Aqueduct. | Any | 5 |
| Khmer | UB | Prasat | Temple replacement. +2 Relic slots Missionaries purchased in this city receive the Martyr promotion. | Religion | 6 |
| Khmer | UU | Domrey | Unique Seige unit. Lower combat strength (45 vs. 55). Lower production cost (220 vs. 280). Can move and attack on the same turn. Exerts Zone of Control. | Domination | 7 |
| Kongo / Mvemba a Nzinga | LA | Religious Convert | Can't build Holy Sites or found a religion, but receives all the beliefs of any religion that has established itself as Kongo's majority religion, not just the Follower beliefs. Building a Mbanza or Theater Square grants a free Apostle of the city's majority religion. | Any | 3 |
| Kongo | UD | Mbanza | Neighborhood replacement +5 Housing +2 Food +4 Gold | Culture | 3 |
| Kongo | UU | Ngao Mbeba | Swordsman replacement. Higher Production cost (110 vs. 90). Does not suffer Movement or sight penalties in Woods or Rainforests. +10 Combat Strength when defending against ranged attacks. | Domination | 6 |
| Kongo | UA | Nkisi | Relics, Artifacts and Sculptures provide +2 Food, +2 Production, and +4 Gold. The Palace has four extra slots for Great Works. +50% Great Writer, Great Artist, Great Musician, and Great Merchant points from all sources. | Culture | 7 |
| Korea | UU | Hwacha | Field Cannon replacement. Lower Production cost (250 vs. 330). Lower Combat Strength (45 vs. 50). Lower maintenance cost (3 vs. 5). Cannot move and attack in the same turn. | Domination | 5 |
| Korea / Seondeok | LA | Hwarang | Cities with an established Governor receive +3% Culture and +3% Science for each promotion that Governor has. | Science | 8 |
| Korea | UA | Three Kingdoms | Farms receive +1 Food and Mines receive +1 Science if adjacent to a Seowon. | Science | 8 |
| Korea | UD | Seowon | Campus replacement. +4 Science with no adjacency bonus. -1 penalty to Science for each adjacent district tile. | Science | 8 |
| Macedon / Alexander | LA | To the World's End | Macedonian cities never incur war weariness. All military units heal completely when a city with a Wonder is captured. Gain the Hetairoi unique unit with Horseback Riding. | Domination | 6 |
| Macedon | UU | Hypaspist | Swordsman replacement. Higher Production cost (100 vs. 90). +5 Combat Strength when besieging a district. +50% support bonuses. | Domination | 7 |
| Macedon | UA | Hellenistic Fusion | Conquering a city grants a free Eureka for each Encampment and Campus district in the conquered city and a free Inspiration for each Holy Site and Theater Square district. | Domination | 7 |
| Macedon | UB | Basilikoi Paides | Barracks replacement. +25% combat experience for all melee, ranged land units, and Hetairoi trained in this city. Gain Science equal to 25% of the unit's cost when a non-civilian unit is created in this city. | Domination | 7 |
| Macedon / Alexander | UU | Hetairoi | Unique Heavy Cavalry unit. Higher Combat strength (36 vs. 28). Higher Production cost (100 vs. 65). +5 additional Combat Strength when adjacent to a Great General. +5 Great General points from kills. Starts with a free promotion. | Domination | 8 |
| Mali | UU | Mandekalu Cavalry | Higher Combat Strength (49 vs. 48). Prevents friendly Traders within 4 tiles from being plundered as long as they are on a land tile. Provides Gold equal to 100% of the base Combat Strength of each defeated enemy unit. | Domination | 4 |
| Mali | UA | Songs of the Jeli | City Centers gain +1 Faith and +1 Food for every adjacent Desert and Desert Hills tile. Mines receive -1 Production and +4 Gold. May purchase Commercial Hub buildings with Faith. -30% Production towards buildings and units. | Any | 6 |
| Mali / Mansa Musa | LA | Sahel Merchants | International Trade Routes gain +1 Gold for every flat Desert tile in the sending city. Entering a Golden Age permanently grants +1 Trade Route capacity. | Any | 7 |
| Mali | UD | Suguba | Commercial Hub replacement. Receives Major (+2 Gold) Adjacency bonus for a nearby River or Holy Site 20% discount on all Gold and Faith purchases in this city | Any | 8 |
| Maori | UI | Pā | Unique fort. A Māori unit occupying a Pā heals even if they just moved or attacked. | Domination | 4 |
| Maori | UU | Toa | Swordsman replacement. Higher Production cost (120 vs. 90). No Gold maintenance cost. Reduces the Combat Strength of adjacent enemy units by 5 (non-cumulatively). No strategic resource requirement. Can construct a Pā. | Domination | 6 |
| Maori / Kupe | LA | Kupe's Voyage | Starts the game in the Ocean. +2 Science and +2 Culture per turn before the first city is settled. Their first settled city receives a free Builder and +1 Population. The Palace grants +3 Housing and +1 Amenity. | Any | 7 |
| Maori | UA | Mana | Starts with Sailing and Shipbuilding unlocked and the ability to enter Ocean tiles. Embarked units gain +5 Combat Strength and +2 Movement. Unimproved Woods and Rainforests provide +1 Production, additional +1 Production with Mercantilism and +2 Production with Conservation. Fishing Boats provide +1 Food. Building a Fishing Boat triggers a Culture Bomb, claiming surrounding tiles. Resources cannot be harvested. Great Writers cannot be earned. | Any | 8 |
| Maori | UB | Marae | Ampitheater replacement. +1 Culture and Faith to all of this city's tiles with a passable feature. No maintenance cost. No Great Work slots. | Culture | 8 |
| Mapuche | UI | Chemamull | It must be built on a tile with an Appeal of Breathtaking Provides Culture equal to 75% of its tile's Appeal. | Culture | 4 |
| Mapuche / Lautaro | LA | Swift Hawk | Defeating an enemy unit within the borders of an enemy city causes that city to lose 20 Loyalty. Pillaging a tile within the borders of an enemy city causes that city to lose 5 Loyalty. | Domination | 4 |
| Mapuche | UU | Malón Raider | Unique Light Cvalry unit. Lower production cost (250 vs. 330). Lower combat strength (55 vs. 62). Lower movement speed (4 vs. 5). Lower maintenance (4 vs. 5). +5 Combat Strength within 4 tiles of friendly territory. Pillaging only costs 1 Movement. | Domination | 7 |
| Mapuche | UA | Toqui | All units trained in cities with an established Governor gain +25% combat experience. +10 Combat Strength bonus against civilizations that are in a Golden Age. | Domination | 8 |
| Mongolia | UU | Keshig | Unique Ranged unit. Higher movement (4 vs. 2) When in formation, shares its Movement with all units in the formation. Requires horses. | Domination | 6 |
| Mongolia | UB | Ordu | Stable replacement. +1 Movement for all light and heavy cavalry units trained in this city | Domination | 7 |
| Mongolia / Genghis Khan | LA | Mongol Horde | All cavalry class units gain +3 Combat Strength and have a chance to capture defeated cavalry class enemy units. | Domination | 8 |
| Mongolia / Kublai Khan | LA | Gerege | Gain an additional Economic policy slot in all Governments. Gain a random Eureka and Inspiration Inspiration upon first establishing a Trading Post in another major civilization's city. | Any | 7 |
| Mongolia | UA | Örtöö | Sending a Trade Route immediately creates a Trading Post in the destination city, instead of when the Trade Route is finished. Gains an extra level of Diplomatic Visibility with civilizations they have a Trading Post with. Mongolian units receive +6 Combat Strength for each level of Diplomatic Visibility they have over their opponents, instead of the usual +3. | Domination | 8 |
| Norway | UU | Berserker | Unique Melee unit. Higher production cost (160 vs. 90). Higher combat strength (40 vs. 36). Higher maintenance cost (3 vs. 2). Uses one less movement to pillage tiles. Has 4 Movement if this unit starts in enemy territory. +10 Combat Strength when attacking and -5 Combat Strength when defending. | Domination | 4 |
| Norway | UB | Stave Church | Temple replacement. Holy Site gets an additional Standard Adjacency bonus (+1) from Woods. +1 Production for every coastal resource worked by the city | Domination | 4 |
| Norway / Harald Hardrada | LA | Thunderbolt of the North | +50% Production toward naval melee units. All naval melee units gain the ability to perform coastal raids. Gain the Viking Longship unique unit with Sailing. Pillaging and coastal raiding grants additional yields: Science in addition to Gold for Mines, and Culture in addition to Faith for Quarries, Pastures, Plantations, and Camps. | Domination | 5 |
| Norway | UA | Knarr | Can enter enter Ocean tiles with Shipbuilding, instead of Cartography. All units pay no movement cost to embark or disembark. Naval melee units can heal in neutral territory. | Domination | 5 |
| Norway / Harald Hardrada | UU | Viking Longship | Galley replacement. Higher Combat Strength (30 vs. 25). 4 Movement while in coastal waters. | Domination | 6 |
| Nubia | UI | Nubian Pyramid | +1 Faith +1 Food if adjacent to a City Center +1 yield for any adjacent district | Any | 5 |
| Nubia | UA | Ta-Seti | +50% Production toward Ranged units. Ranged units gain +50% combat experience. +1 Production for Mines over strategic resources, and +2 Gold for Mines over bonus and luxury resources. | Any | 7 |
| Nubia / Amanitore | LA | Kandake of Meroë | +20% Production towards districts, increasing to +40% Production if there's a Nubian Pyramid adjacent to the City Center. | Any | 8 |
| Nubia | UU | Pítati Archer | Archer replacement. Higher Production cost (70 vs. 60). Higher Combat Strength (17 vs. 15). Higher Ranged Strength (30 vs. 25). Higher Movement (3 vs. 2). | Domination | 8 |
| Ottoman | UU | Barbary Corsair | Privateer replacement. Lower Production cost (240 vs. 280). Lower Gold maintenance cost (3 vs. 4). Uses no Movement to perform coastal raids. | Domination | 6 |
| Ottoman | UB | Grand Bazaar | Bank replacement. +5 Gold Lower production cost (220 vs. 290). Accumulate one extra Strategic resource for every different type of Strategic resources this city has improved. Receive 1 Amenity for every Luxury resource this city has improved. | Domination | 7 |
| Ottoman / Suleiman | UU | Janissary | Musketman replacement. Lower Production cost (120 vs. 240). Higher Combat Strength (60 vs. 55). Starts with one free promotion. Can only be trained in cities with a Population of 2 or more. If trained in a city that was founded by the Ottomans, subtracts 1 from its Population. | Domination | 8 |
| Ottoman / Suleiman | LA | Grand Vizier | Has access to a unique Governor, Ibrahim, the Grand Vizier. Gain the Janissary unique unit with Gunpowder. | Domination | 8 |
| Ottoman | UA | Great Turkish Bombard | +50% Production toward Siege units. Siege units gain +5 Combat Strength when attacking defensible districts. Conquering a city doesn't cause that city to lose Population. +1 Amenity and +4 Loyalty per turn for cities not founded by the Ottomans. | Domination | 8 |
| Persia / Cyrus | LA | Fall of Babylon | +2 Movement for all units for the next 10 turns after declaring a Surprise War. Surprise Wars count as Formal Wars for the purposes of warmongering penalties and greivances. +5 Loyalty per turn in occupied cities with a garrisoned unit. | Domination | 7 |
| Persia | UA | Satrapies | Gains +1 Trade Route capacity with Political Philosophy. Domestic Trade Routes provide +2 Gold and +1 Culture. Roads built inside Persian territory are one level more advanced than usual. | Culture | 7 |
| Persia | UU | Immortal | Swordsman replacement. Higher Production cost (100 vs. 90). Lower Combat Strength (30 vs. 36). Can make melee and ranged attacks (25 strength). | Domination | 8 |
| Persia | UI | Pairidaeza | +1 Culture +2 Gold +2 Appeal +1 Culture for every adjacent Holy Site and Theater Square +1 Gold for every adjacent Commercial Hub and City Center +1 Culture (with Diplomatic Service) | Culture | 8 |
| Phoenician | UU | Bireme | Galley replacement. Higher Combat Strength (30 vs. 25). Higher Movement (4 vs. 3). Prevents friendly Traders within 4 tiles from being plundered as long as they are on a water tile. | Domination | 6 |
| Phoenician / Dido | LA | Founder of Carthage | Cities with a Cothon gain the unique Move Capital project, which moves the Phoenician Capital to that city. Gains +1 Trade Route capacity after building the Government Plaza or any Government Plaza building. +50% Production towards districts in the city with the Government Plaza. | Any | 6 |
| Phoenician | UA | Mediterranean Colonies | Starts with the Eureka for Writing. Coastal cities founded by Phoenicia and in the same continent as their Capital always have full Loyalty. Settlers receive +2 Movement and sight radius while embarked, and pay no Movement costs to embark or disembark. | Any | 6 |
| Phoenician | UD | Cothon | Harbor replacement. +50% Production towards naval units and Settlers in this city. All wounded naval units in the city's borders heal +100 HP each turn. | Any | 8 |
| Polish / Jadwiga | LA | Lithuanian Union | Taking territory from a foreign city with a Culture Bomb converts it to Poland's religion. Relics provide +4 Gold, +2 Culture and +2 Faith. Holy Sites receive a +1 adjacency bonus from districts, instead of +0.5. | Religion | 6 |
| Polish | UA | Golden Liberty | Building an Encampment or Fort triggers a Culture Bomb, claiming surrounding tiles. One Military policy slot in all governments is converted into a Wildcard policy slot. | Any | 6 |
| Polish | UB | Sukiennice | Market replacement. +3 Gold. +4 Gold from domestic Trade Routes and +2 Production from international Trade Routes | Any | 7 |
| Polish | UU | Winged Hussar | Unique Heavy Cavalry unit. Higher production cost (250 vs. 220). Higher combat strength (55 vs. 48). Pushes back enemies if it does more damage than it takes when attacking. Defenders that cannot be pushed back take additional damage. | Domination | 8 |
| Rome | UA | All Roads Lead to Rome | Founded or conquered cities start with a Trading Post and, if within Trade Route range of the Capital, a road to it. Trade Routes generate +1 additional Gold from Roman Trading Posts they pass through | Domination | 6 |
| Rome | UD | Bath | Aqueduct replacement. Provides an additional bonus of +2 Housing and +1 Amenity in either case. | Any | 6 |
| Rome | UU | Legion | Swordsman replacement. Higher Production cost (110 vs. 90). Higher Combat Strength (40 vs. 36). Has one build charge. Can construct a Roman Fort | Domination | 7 |
| Rome / Trajan | LA | Trajan's Column | All founded cities start with a free building in the City Center. (A Monument if the game is started in the Ancient Era) | Culture | 7 |
| Russia / Peter | LA | The Grand Embassy | Trade Routes to more advanced civilizations grant Russia +1 Science for every three technologies that civilization is ahead of them, and +1 Culture for every three civics. | Any | 5 |
| Russia | UU | Cossack | Cavalry replacement. Higher Production cost (340 vs. 330). Higher Combat Strength (67 vs. 62). +5 Combat Strength when fighting in or next to home territory. Can move after attacking. | Domination | 7 |
| Russia | UA | Mother Russia | Founded cities start with eight additional tiles. Tundra tiles provide +1 Faith and +1 Production, in addition to their usual yields. Districts, improvements and units are immune to damage from Blizzards. +100% damage from Blizzards inside Russian territory to civilizations at war with Russia. | Any | 8 |
| Russia | UD | Lavra | Holy Site replacement. +2 Great Prophet points per turn (vs. +1). +1 Great Writer, Great Artist and Great Musician point per turn. (Not affected by the Oracle.) Expands the city's borders whenever a Great Person is used in the city. | Culture | 8 |
| Scotland | UU | Highlander | Ranger replacement. Higher Strength (50 vs. 45) and Ranged Strength (65 vs. 60). +5 Combat Strength in Hills and Woods. | Domination | 3 |
| Scotland / Robert the Bruce | LA | Bannockburn | Can declare a War of Liberation with Defensive Tactics, instead of Diplomatic Service. +100% Production and +2 Movement for all units for the next 10 turns after declaring a War of Liberation. | Any | 4 |
| Scotland | UA | Scottish Enlightenment | Happy cities gain +5% Science and +5% Production, and generate +1 Great Scientist points in their Campuses and +1 Great Engineer points in their Industrial Zones. Ecstatic cities double these bonuses. | Science | 6 |
| Scotland | UI | Golf Course | +1 Amenity +2 Gold +1 Appeal +1 Culture if adjacent to a City Center +1 Culture if adjacent to an Entertainment Complex +1 Housing (with Globalization) | Science | 6 |
| Scythia | UU | Saka Horse Archer | Unique Ranged unit. Higher production cost (100 vs. 60). Higher maintenance cost (2 vs. 1). Higher movement (4 vs. 2). Has a range of 1 | Domination | 2 |
| Scythia | UI | Kurgan | +1 Faith +1 Gold +1 Faith for each adjacent Pasture +1 Gold (requires Guilds) +1 Gold (requires Capitalism) | Religion | 4 |
| Scythia | UA | People of the Steppe | Building a light cavalry unit or Saka Horse Archer grants a free second copy of that unit. | Domination | 6 |
| Scythia / Tomyris | LA | Killer of Cyrus | All units receive +5 Combat Strength when attacking wounded units, and heal up to 30 hit points after killing a unit. | Domination | 8 |
| Spain / Phillip II | LA | El Escorial | All units receive +4 Combat Strength against civilizations following a different Religion. Inquisitors have one extra use of their Remove Heresy ability. Inquisitors eliminate 100% presence of other Religions. | Domination | 4 |
| Spain | UA | Treasure Fleet | May form Fleets and Armadas with Mercantilism, instead of Nationalism and Mobilization. Trade Routes between cities on different continents gain +1 Food and +1 Production for domestic Trade Routes, and +6 Gold for international Trade Routes. +2 Loyalty per turn for cities outside their home continent if they have a Mission adjacent to the City Center. | Domination | 8 |
| Spain | UI | Mission | +2 Faith. +2 Faith , 1 Food, 1 Production if on a different continent than your Capital. +1 Science for every adjacent Campus and Holy Site. +2 Science (requires Cultural Heritage) | Science | 6 |
| Spain | UU | Conquistador | Musketman replacement. Higher Production cost (250 vs. 240). +10 Combat Strength when escorting (or when in the same tile with) a religious unit. Converts cities to Spain's religion (if they have founded one) if it captures a city or is adjacent to the city when it is captured. | Domination | 7 |
| Sumeria / Gilgamesh | LA | Adventures of Enkidu | May declare war on anyone at war with his allies without incurring warmonger penalties. When at war with a common foe, Sumerian and allied units share pillage rewards and combat experience if within 5 tiles of each other. Gains Alliance Points per-turn for being at war with a common foe. | Domination | 6 |
| Sumeria | UA | Epic Quest | Capturing a Barbarian Outpost also grants a Tribal Village reward. May levy city-state units at 50% of the usual Gold cost. | Any | 7 |
| Sumeria | UI | Ziggurat | +2 Science +1 Culture if placed adjacent to a River +1 Culture (with Natural History) | Science | 8 |
| Sumeria | UU | War Cart | Unique Heavy Cavalry. Lower production cost (55 vs. 65). Higher combat strength (30 vs. 28). Higher movement (3 vs. 2). Lower maintenance (0 vs. 1). No combat penalties against anti-cavalry units. | Domination | 8 |
| Sweden | UU | Carolean | Pike and Shot replacement. Lower Gold maintenance cost (3 vs. 4). Higher Movement (3 vs. 2). +3 Combat Strength per point of unused Movement. | Domination | 5 |
| Sweden / Kristina | LA | Minerva of the North | Buildings with at least three Great Work slots and wonders with at least two Great Work slots are automatically themed when all slots are filled. Gains the Queen's Bibliotheque unique building in the Government Plaza. | Culture | 7 |
| Sweden / Kristina | UB | Queen's Bibliotheque | +2 Great Writer points per turn. +2 Great Artist points per turn. +2 Great Musician points per turn. +2 Great Work of Writing slots. +2 Great Work of Art slots. +2 Great Work of Music slots. | Culture | 7 |
| Sweden | UA | Nobel Prize | +50 Diplomatic Favor whenever a Great Person is earned. +1 Great Engineer points from Factories and +1 Great Scientist points from Universities. Sweden's presence in the game adds three unique World Congress competitions in the Industrial Era. | Diplomatic | 8 |
| Sweden | UI | Open-Air Museum | +2 Loyalty per turn in this city. +2 Culture and +2 Tourism for each type of terrain (Snow, Tundra, Desert, Plains, or Grassland) in which at least one Swedish city is founded. | Culture | 8 |
| Zulu | UA | Isibongo | Conquering a city will upgrade the conquering unit into a Corps or Army, if the proper civics are unlocked. +3 Loyalty per turn to cities with a garrisoned unit, increasing to +5 Loyalty per turn if the garrisoned unit is a Corps or Army. | Domination | 8 |
| Zulu | UD | Ikanda | Encampment replacement. +1 Housing. 25% faster training of Corps and Armies. Allows Corps and Armies to be built without the Military Academy building. | Domination | 7 |
| Zulu | UU | Impi | Pikeman replacement. Lower Production cost (125 vs. 200). Lower maintenance cost (1 vs. 3). Increased flanking bonus. Gains XP faster. | Domination | 8 |
| Zulu / Shaka | LA | Amabutho | May form Corps with Mercenaries, instead of Nationalism, and Armies with Nationalism, instead of Mobilization. Corps and Armies gain an additional +5 Combat Strength. | Domination | 8 |
| Maya | UA | Mayab | Settling adjacent to fresh water and coast do not provide extra housing. Instead each farm provides an additional +1 housing and +1 gold. +1 amenity for every luxury adjacent to the city center. | Any | 6 |
| Maya | UD | Observatory | +2 science bonus for adjacent plantations. +1 science bonus for every two adjacent farm or district tiles. | Science | 8 |
| Maya | UU | Hul'che | Replaces the archer. Strong ranged attack. +5 combat strength when fighting a wounded opponent. | Domination | 6 |
| Maya / Lady Six Sky | LA | Ix Mutal Aiaw | Non capital cities within 6 tiles of the capital gain +10% to all yields. Other non capital cities recieve -15% to all yields. +5 combat strength to units within 6 tiles of the capital. | Any | 8 |
| Gran Columbia | UI | Hacienda | +2 Gold, +1 Production, and +1 Housing. +1 Food for every two adjacent Plantations (increased to every plantation with replaceable parts). Plantations and Haciendas (increased to every Hacienda with Rapid Deployment). | Any | 6 |
| Gran Columbia | UA | Eiercito Patriota | +1 movement to all units. Promoting a unit does not end that units turn. | Domination | 8 |
| Gran Columbia / Simon Bolivar | UU | Comandante General | A special type of Great Person only available to Simon Bolivar | Domination | 6 |
| Gran Columbia / Simon Bolivar | LA | Campana Admirable | Earn a Comandante General when the game enters a new era | Domination | 8 |
| Gran Columbia | UU | Llanero | Replaces the Calvary. Low maintenance cost. +4 combat strength for every adjacent Llanero. Fully heals when when in range of a Comandante General that activates its retire ability. | Domination | 8 |
| Ethiopia / menelik II | LA | Council of Ministers | Receive science and culture equal to +15% of your faith generation in cities founded on hills. Units receive +4 combat strength on hills. | Religion | 7 |
| Ethiopia | UA | Askumite Legacy | Ethipoia's International Trade Routes grant +0.5 faith per resource at the origin. Improved resources provide +1 faith for each copy the city owns. Can purchase Archaelogical Museums and Archeologists with faith. | Faith | 5 |
| Ethiopia | UI | Oromo Cavalry | Ethiopian unique Medieval era light cavalry unit. Stronger and greater sight than the Courser that it replaces. Receives no movement penalties from moving on hills. | Domination | 5 |
| Ethiopia | UU | Rock-Hewn Church | +1 faith. +1 faith for every adjacent mountain and hill tile. Provides tourism after researching flight from faith. +1 appeal. Can only be built on hills or volcanic soil not adjacent to another Rock-Hewn Church. | Faith | 6 |
| Byzantium | UA | Taxis | Units receive +3 combat strength for each Holy City converted to Byzantium's religion. Byzantium's religion is spread to nearby cities when defeating an enemy unit belonging to a civilization or city-state. +1 Gret Prophet point from cities with a Holy Site. | Faith | 8 |
| Byzantium | UU | Dromon | Classical Era unit that replaces the quadrireme. Has +1 range and +10 combat strength against units. | Domination | 4 |
| Byzantium | UI | Hippodrome | Replaces the Entertainment Complex. Provides +3 amenities, and cheaper to build. When the Hippodrome and its buildings are constructed, receive a heavy cavalry unit. Units granted from this district do not have a resource management cost. | Domination | 7 |
| Byzantium / Basil II | LA | Porphyro- génnētos | Heavy and Light Cavalry do full damage against cities following the same religion as Byzantium. Gain the Tagma unique unit when the Divine Right civic is discovered. | Domination | 8 |
| Byzantium / Basil II | UU | Tagma | Medieval Era unit that replaces the Knight. Land units within 1 tile of the Tagma receive +4 Combat Strength or Religious Strength. | Domination | 7 |
| Gaul | UA | Hallstatt Culture | Mines provide a minor adjacency bonus for all districts, a Culture Bomb of unowned territory, and receive +1 Culture. Specialty districts do not receive a minor adjacency for being adjacent to another district and cannot be built adjacent to the City Center. | Any | 4 |
| Gaul | UU | Gaesatae | Ancient era unit that replaces the Warrior. This unit has increased cost and receives +10 Combat Strength when fighting units with a higher base Combat Strength. +5 Combat Strength against district defenses. | Domination | 7 |
| Gaul | UI | Oppidum | Cheaper and available earlier than the district it replaces, the Industrial Zone. The Oppidum district is defensible with a ranged attack. When the first Oppidum is constructed, the Apprenticeship technology is unlocked. Major adjacency bonus from Quarries and strategic resources. | Any | 6 |
| Gaul / Ambiorix | LA | King of the Eburones | Gain Culture equal to 20% of the unit's cost when a non-civilian is trained. Anti-Cavalry, Melee, and Ranged Units receive +2 combat for every adjacent military unit. | Domination | 8 |
| Babylon | UA | Enuma Anu Enlil | Eurekas provide all of the science for technologies. -50% science per turn | Science | 7 |
| Babylon / Hammurabi | LA | Ninu Ilu Sirum | When each specialty district type except the Goverment Plaza is constructed for the first time receive the lowest production cost building that can currently be constructed in that district. Receive an Envoy when any other district is constructed for the first time | Any | 6 |
| Babylon | UU | Sabum Kibittum | Unique ancient era melee unit. +17 combat strength against Heavy and Light Cavalry promotion class units. This unit has 3 movement and sight. | Domination | 5 |
| Babylon | UB | Palgum | +1 housing and +2 production. Freshwater tiles receive +1 food. City must be adjacent to a river. | Any | 5 |
| Vietnam | UA | Nine Dragon River Delta | All land specialty Districts can only be built on Rainforest, Marsh, or Woods tiles. Buildings on these features receive additional yields: +1 Culture in Woods, +1 Science in Rainforest, and +1 Production in Marsh. Woods can be planted with Medieval Faires, instead of Conservation. | Any | 4 |
| Vietnam / Bà Triệu | LA | Drive out the Aggressors | All units gain +5 Strength Combat Strength when fighting in Rainforest, Marsh, and Woods tiles, and +1 Movement if they start their turn there. Both of these bonuses are doubled in tiles inside Vietnamese territory. | Domination | 8 |
| Vietnam | UU | Voi Chiến | Ranged Medieval Era unit. Can move after attacking. Slightly improved sight and movement (+1) and increased combat strength from 35 to 30. | Domination | 8 |
| Vietnam | UD | Thành | Replaces encampment. +2 Culture for adjacent districts. Provides culture and tourism bonus after researching flight. | Culture | 8 |
| Portugal | UA | Casa Da India | International Trade Routes can only reach cities on the coast or with a Harbor, but receive +50% towards all yields. Trader units have +50% range over water, and can embark as soon as they are unlocked. | Any | 8 |
| Portugal | UU | Nau | Portuguese unique navel melee unit that replaces the Caravel. Starts with 1 free Promotion and is less maintenance. Has two charges to build Feitorias. | Domination | 7 |
| Portugal | UA | Feitoria | Unlocks the Nau ability to construct a Feitoria, unique to Portugal. Provides +4 Gold and +1 Production. Trade routes sent to this city from Portugal gain +4 Gold and +1 Production. Can only be built adjacent to luxury or Bonus resources in territory belonging to other Civilizations or City-States that you have Open Borders with. Must be built on a Coast or Lake tile adjacent to land and not adjacent to another Feitoria. Feitorias cannot be removed. | Any | 7 |
| Portugal | UB | Navigation School | A building unique to Portugal. +25% Production towards navel units in this city. +1 Science for every two coast or lake tiles in this city. +1 Great Admiral points. | Science | 8 |
| Portugal / João III | LA | Porta Do Cerco | All units receive +1 sight. +1 Trade Route capacity when civilization is met. Open Borders with all city-states. | Domination | 7 |
Civ 6 Tier List: All Pantheons Ranked
| | | |
| --- | --- | --- |
| Name | Description | Tier |
| God of the Open Sky | +1 Culture from Pastures. Especially Australia/Scythia. | A |
| Divine Spark | +1 Great Person Points from Holy Sites (Prophet), Campuses with a Library (Scientist), and Theater Squares with an Amphitheater (Writer). | A |
| God of the Forge | +25% Production toward Ancient and Classical military units. | A |
| Goddess of Festivals | +1 Culture from Plantations. | A |
| Religious Settlements | When chosen receive a Settler in your capital. Border expansion rate is 15% faster. Especially Russia. | A |
| Fertility Rites | When chosen receive a Builder in your capital. City growth rate is 10% higher. Especially China. | A |
| Earth Goddess | +2 Faith from tiles with Breathtaking Appeal. Especially Inca. | B |
| God of the Sea | +1 Production from Fishing Boats. Especially Indonesia/Norway/Maori. | B |
| Goddess of the Hunt | +1 Food and +1 Production from Camps. Especially Canada. | B |
| God of Craftsmen | +1 Production and +1 Faith from improved Strategic resources. Especially Mongolia. | B |
| Desert Folklore | Holy Site districts get +1 Faith from adjacent Desert tiles. Especially Mali. | B |
| Dance of the Aurora | Holy Site districts get +1 Faith from adjacent Tundra tiles. Especially Russia. | B |
| City Patron Goddess | +25% Production toward districts in cities without a specialty district. | C |
| Religious Idols | +2 Faith from Mines over Luxury and Bonus resources. Especially Nubia. | C |
| Fire Goddess | +2 Faith from Geothermal Fissures and Volcanic Soil. Especially Hungary. | C |
| Monument to the Gods | +15% Production to Ancient and Classical era Wonders. Especially China. | C |
| Sacred Path | Holy Site districts get +1 Faith from adjacent Rainforest tiles. Especially Brazil. | C |
| Lady of the Reeds and Marshes | +2 Production from Marsh, Oasis, and Desert Floodplains. Especially Egypt. | C |
| Initiation Rites | +50 Faith for each Barbarian Outpost cleared. The unit that cleared the Barbarian Outpost heals +100 HP. Especially Sumeria. | D |
| River Goddess | +2 Amenities and +2 Housing to cities if they have a Holy Site district adjacent to a River. Especially Khmer | D |
| God of Healing | Increases Healing by +30 in your Holy Site district, or any adjacent tiles. | D |
| God of War | Bonus Faith equal to 50% of the strength of each enemy unit killed within 8 tiles of a Holy Site district you own. | D |
| Stone Circles | +2 Faith from Quarries. | D |
Civ 6 Tier List: Best Places of Worship
| | | | |
| --- | --- | --- | --- |
| Name | Type | Ability | Tier |
| Mosque | Worship | +3 Faith; Missionaries and Apostles +1 Spread Religion charge | S |
| Synagogue | Worship | +5 Faith | A |
| Meeting House | Worship | +3 Faith; +2 Production | A |
| Wat | Worship | +3 Faith; +2 Science | A |
| Pagoda | Worship | +3 Faith; +1 Diplomatic Favor | B |
| Stupa | Worship | +3 Faith; +1 Amenity | B |
| Gurdwara | Worship | +3 Faith, +2 Food, +1 housing | B |
| Dar-e Mehr | Worship | +3 Faith; +1 additional Faith for each era since constructed or last repaired. Immune to environmental effects | C |
| Cathedral | Worship | +3 Faith; 1 slot for religious art | C |