NCERT Solutions, Question Answer and Mind Map for Class 12 Chemistry Chapter 12, "Aldehydes, Ketones, and Carboxylic Acids," is a study material package designed to help students understand the structure, properties, and reactions of aldehydes, ketones, and carboxylic acids.
NCERT Solutions provide detailed explanations and answers to the questions presented in the chapter. The solutions cover all the topics in the chapter, including the preparation of aldehydes, ketones, and carboxylic acids, their physical and chemical properties, and their reactions with different reagents. They also provide tips on how to answer different types of questions, including short answer, long answer, and multiple-choice questions.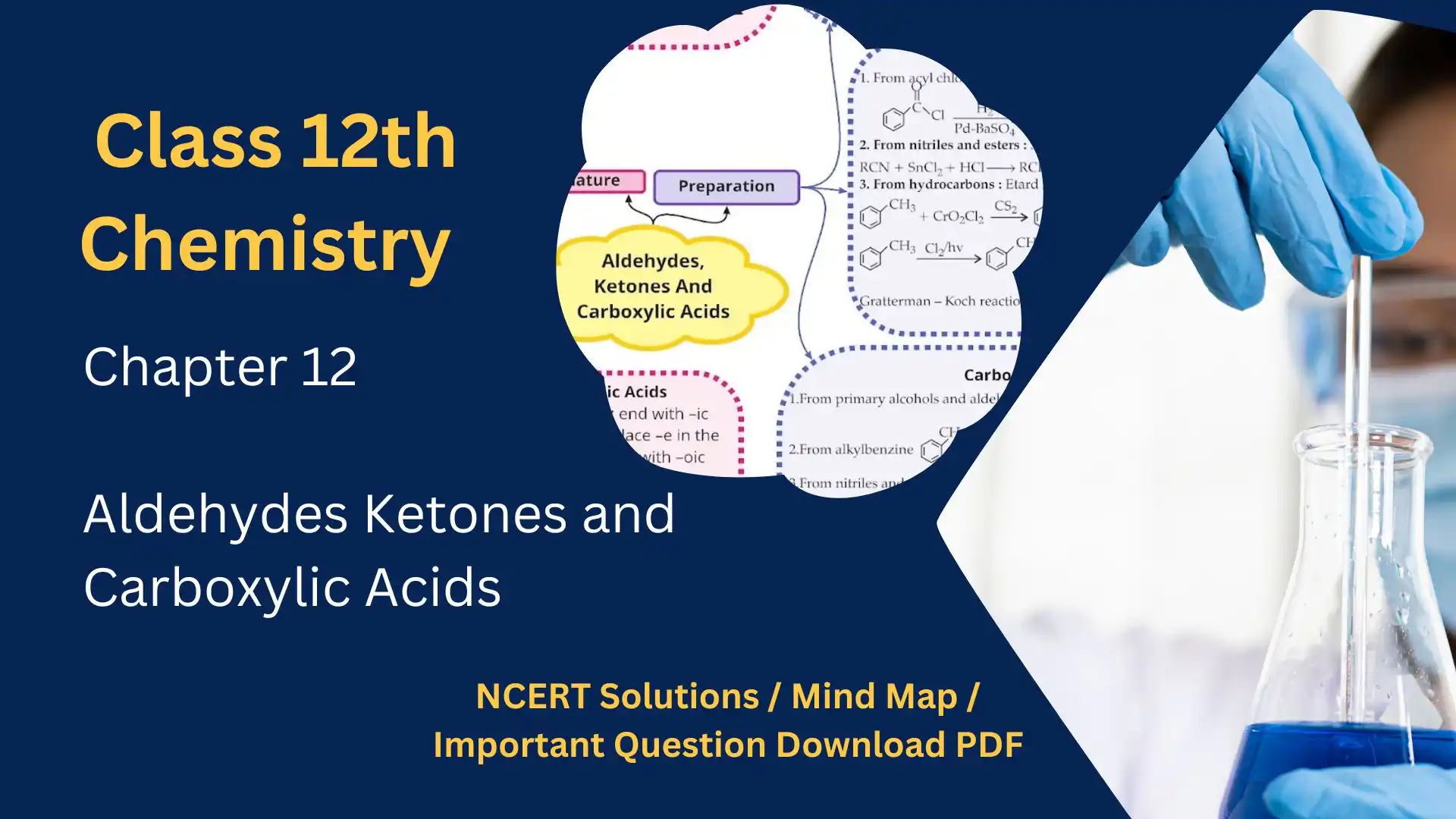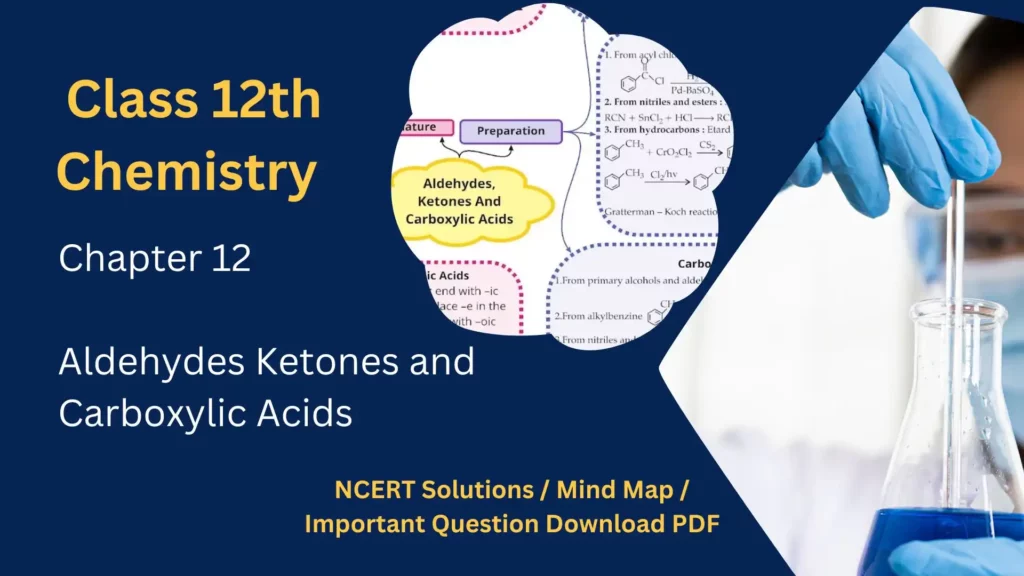 The question-answer section of the chapter covers a wide range of topics, from the nomenclature of aldehydes, ketones, and carboxylic acids to their reactions with different reagents such as sodium bisulfite, Tollens' reagent, and Fehling's solution. It also includes questions on the different methods used for the preparation of aldehydes, ketones, and carboxylic acids.
The mind map provides a visual representation of the key topics covered in the chapter, allowing students to understand the connections between different concepts and ideas. The mind map covers the nomenclature, preparation, and properties of aldehydes, ketones, and carboxylic acids, as well as their reactions with different reagents.
NCERT Solution / Notes Class 12 Chemistry Chapter 12 Aldehydes Ketones and Carboxylic Acids with Mind Map PDF Download
ALDEHYDES, KETONES AND CARBOXYLIC ACIDS
Introduction
Carbonyl compounds are organic compounds containing carbon-oxygen double bond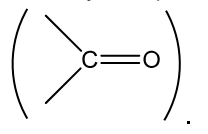 Aldehydes have carbonyl group bonded to a carbon and hydrogen.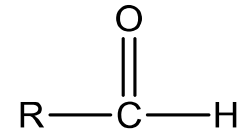 (Where R = H or alkyl or aryl group)
Ketones have carbonyl group bonded to two carbon atoms. O

(Where R and R' may be same or different alkyl or aryl groups)
Nomenclature of Aldehydes and Ketones
ldehydes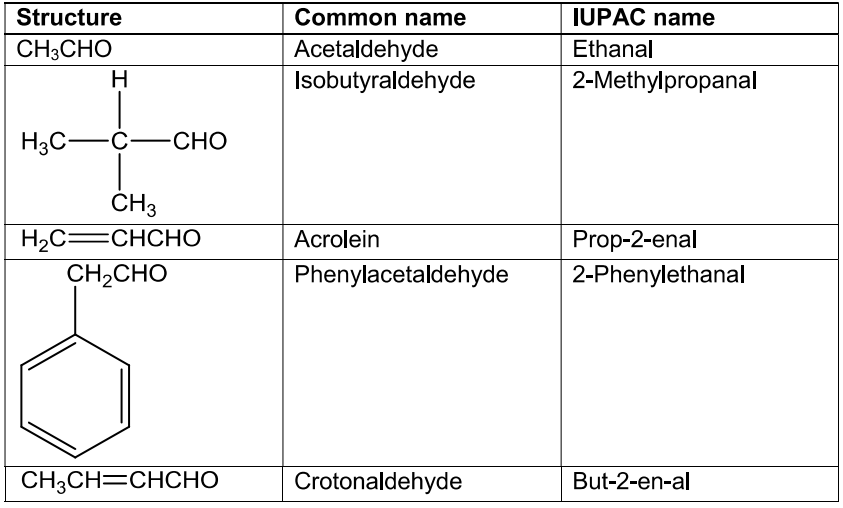 Ketones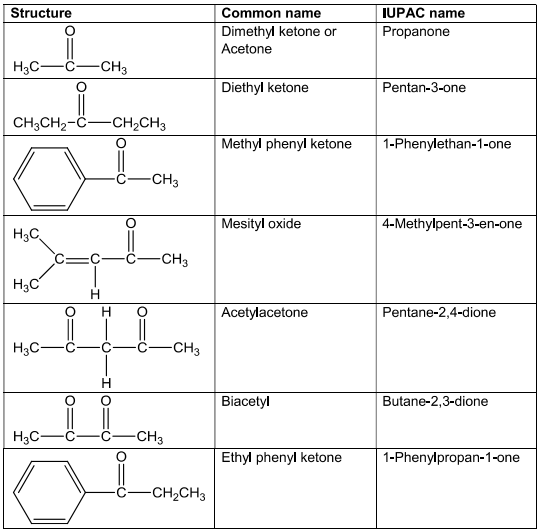 Structure and Nature of Carbonyl Group
Structure
The carbonyl carbon group is sp2 hybridised and forms three sigma bonds.
The fourth electron in the p-orbital forms a n-bond by overlapping with p-orbital of oxygen.
The oxygen atom also has two non-bonding electron pairs.
So the carbonyl carbon with the three atoms linked to it lies in the same plane and the n-cloud lies above and below the plane.
The bond angle is 120° with expected trigonal coplanar structure.


Nature
The C-O double bond is polarised since oxygen is electronegative than carbon.
So the carbonyl carbon is an electrophilic centre and the carbonyl oxygen is a nucleophilic centre.
The carbonyl compounds have substantial dipole moments and are polar than ethers.
The high polarity of the carbonyl group can be explained on the basis of resonance involving a neutral
(A) and a dipolar (B) structures given below.

Preparation of Aldehydes
Rosenmund Reduction
In this reaction, acyl chloride on hydrogenation in the presence of palladium catalyst and barium sulphate gives aldehydes.

Nitriles on reduction with stannous chloride in the presence of HCI give imine which on hydrolysis gives corresponding aldehyde.

An alternate method to reduce nitriles selectively is by diisobutylaluminium hydride to imines which on hydrolysis yields aldehydes.

Esters can also be reduced to aldehydes with DIBAL-H

From Aromatic Hydrocarbons
Aromatic aldehydes can be prepared using the following methods.
By Oxidation of Methylbenzene
Etard Reaction ( Use of Chromyl Chloride)
Chromyl chloride oxidises the methyl group to a chromium complex which on further hydrolysis gives corresponding benzaldehyde.

Use of Chromic oxide(CrO 3)
Toluene when treated with chromic oxide in acetic anhydride gets converted into benzylidene diacetate which on hydrolysis with aqueous acid gives benzaldehyde.

Side Chain Chlorination
Toluene on side chlorination gives benzal chloride which on hydrolysis gives benzaldehyde.

Gatterman — Koch Reaction
Benzene or toluene on treatment with CO and HCI in the presence of AIC!3 or CuCI gives benzaldehyde or p-tolualdehyde.

Preparation of Ketones
From Acid chlorides or Acyl chlorides
Acyl chloride on treatment with dialkylcadmium obtained by reaction of cadium chloride with Grignard reagent gives ketones.

Nitriles on treatment with Grignard reagent followed by hydrolysis yields a ketone

From Benzenes or Substituted Benzenes
Benzene or substituted benzene on treatment with acid chloride in the presence of anhydrous AICI3 gives the corresponding ketone and this reaction is known as Friedel-Crafts acylation reaction.

Chemical Reactions
Nucleophilic Addition Reactions
Aldehydes and Ketones undergo nucleophilic addition reactions.
Mechanism for Nucleophilic Addition Reactions

A nucleophile attacks the electrophilic carbon atom of the polar carbonyl group perpendicularly to the sp3 hybridised orbitals of carbonyl carbon.
The hybridisation changes from sp2 to sp3 and a tetrahedral alkoxide intermediate is formed.
The intermediate grabs a proton from the reaction medium to give an electrically neutral product.
The net result is addition of Nu- and H' across the C-O double bond.
Reactivity

Aldehydes are more reactive than ketones in nucleophilic reactions because of two reasons:
Sterically, it is the presence of two relatively large groups in ketones that hinder the approach of nucleophile to carbonyl carbon than in aldehydes which have only one such substituent.
Electronically, aldehydes are more reactive than ketones because the two alkyl groups in ketones decrease the electrophilicity of the carbonyl carbon more effectively than in aldehydes.
Important Examples of Nucleophilic Addition and Nucleophilic Addition- Elimination Reactions
Addition of Hydrogen cyanide (HCN)

On addition of HCN to aldehydes and ketones they yield cyanohydrins.
Since the reaction is very slow with pure HCN, it is catalysed with the help of a base and the cyanide ion (CN-) generated as a strong nucleophile adds to carbonyl compounds to give cyanohydrins.

Addition of Sodium Hydrogensulphite
Sodium hydrogen sulphite when added to aldehydes and ketones yield addition products.

Addition of Grignard Reagents
Grignard reagents on reacting with aldehydes and ketones yield alcohols.

Addition of Alcohols

Aldehydes on treatment with one equivalent of monohydric alcohol in the presence of dry HCI give hemiacetal which on further treatment with one more molecule of alcohol gives acetal.

Ketones also react with ethylene glycols under similar conditions to give ethylene glycol ketals.

Addition of Ammonia and its Derivatives
Ammonia and its derivative add to the carbonyl group of an aldehydes and ketone

Reduction to Alcohols
Aldehydes and ketones get reduced to primary and secondary alcohols by NaBH4 or LiAIH4.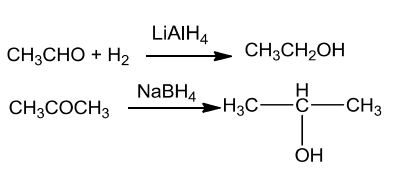 Reduction to Hydrocarbons
Aldehydes and ketones reduce to —CH2 group on treatment with zinc-amalgam and conc. HCI [CIemmenson reduction] or with hydrazine which on heating with sodium or potassium hydroxide in ethylene glycol[Wolff-Kishner reduction]
Oxidation
Aldehydes get oxidised to carboxylic acids with common oxidising agents like nitric acid, potassium permanganate, potassium dichromate etc.

Ketones undergo oxidation with strong oxidising agents and elevated temperatures. The reaction involves carbon-carbon bond cleavage to give a mixture of carboxylic acids with lesser number of carbon atoms than the parent ketones.
Test to distinguish Aldehydes from Ketones
Tollens test
Aldehydes on warming with freshly prepared ammoniacal silver nitrate solution (Tollens reagent) produce a bright silver mirror due to the formation of silver metal.
The aldehydes are oxidised to corresponding carboxylate anion in alkaline medium.


Fehling's test
Fehling reagent comprises of Fehling solution A and Fehling B. Fehling solution A = aqueous copper sulphate
Fehling solution B = Alkaline sodium potassium tartarate(Rochelle salt)
On heating Fehling's reagent with an aldehyde, a reddish brown precipitate is obtained.
Aldehydes are oxidised to corresponding carboxylate anion while aromatic aldehydes do not respond to this test.
Haloform reaction
Aldehydes and ketones with at least one methyl group attached to the carbonyl carbon atom on oxidation with sodium hypohalite turn to sodium salts of corresponding acids with one carbon atom less than that of carbonyl compound. In this reaction, the methyl group is converted to haloform.

Reactions due to a-hydrogen
The a-hydrogen of aldehydes and ketones is acidic in nature hence they undergo a number of reactions.
The a-hydrogen atoms of carbonyl group is acidic due to the strong electron withdrawing effect of the carbonyl group and resonance stabilisation of the conjugate base.

Aldol Condensation
Aldehydes and ketones with at least one a-hydrogen undergo reaction in the presence of dilute alkali as catalyst to form §-hydroxy aldehydes (aldol) or §-hydroxy ketones (ketol) respectively. This is known as Aldol reaction.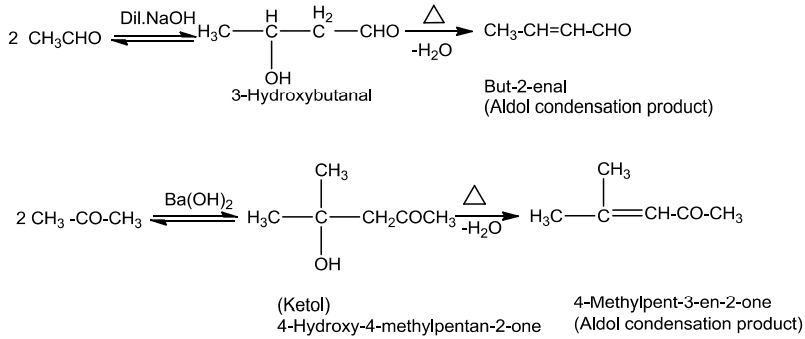 Cross Aldol Condensation
In this reaction, two different aldehydes and/or ketones with a-hydrogen atoms reaction in the presence of dilute alkali as catalyst give a mixture of four products.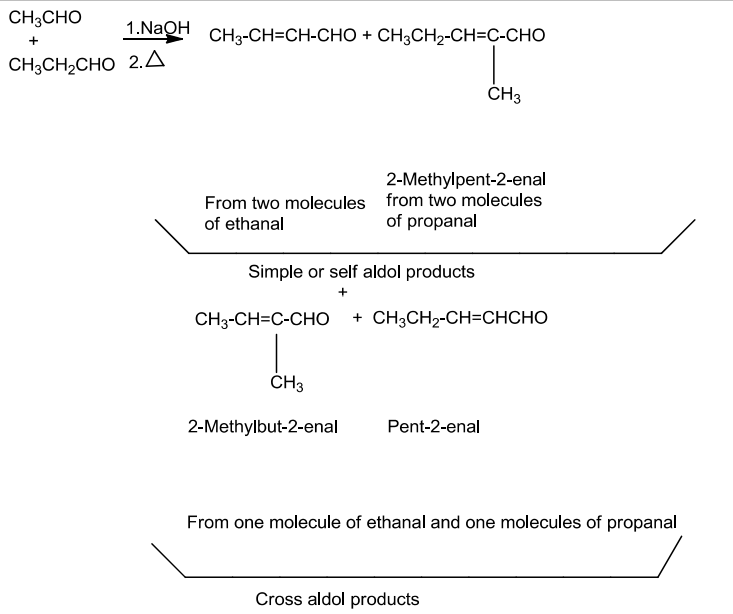 Ketones can be taken as one the component in the cross aldol reactions.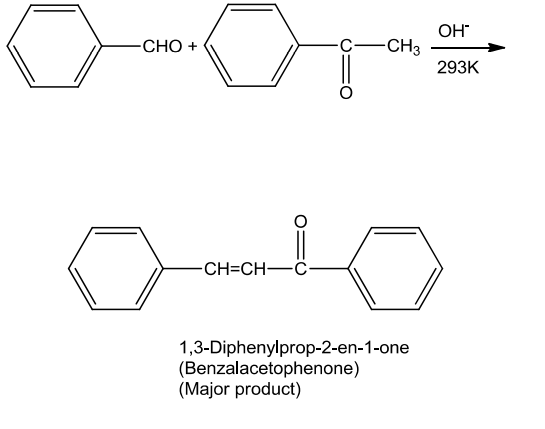 Cannizzaro reaction

Aldehydes with no a-hydrogen undergo self oxidation and reduction on heating with concentrated alkali.
In this reaction, one molecule of the aldehyde is reduced to alcohol and another is oxidised to carboxylic acid salt.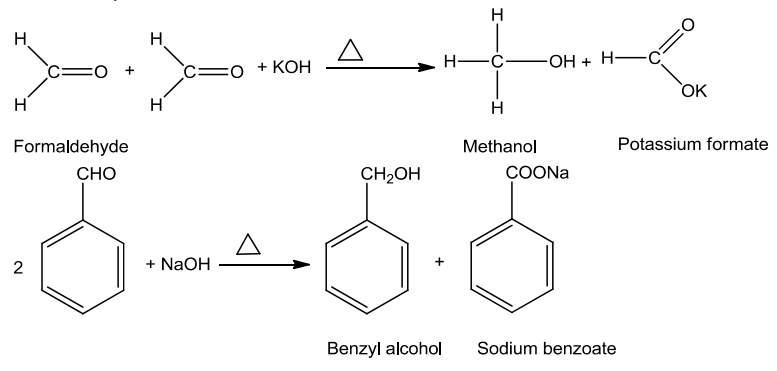 Electrophilic Substitution Reaction
Aromatic aldehydes and ketones undergo electrophilic substitution reaction at the ring in which the carbonyl group acts as a deactivating and meta-directing group.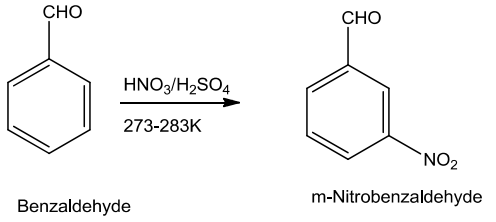 Carboxylic Acids
The carbonyl compounds in which carbonyl group is bonded to oxygen are known as carboxylic acids.
The derivative compounds of carboxylic acid where carbon is attached to nitrogen and to halogens are called amides and acyl halides respectively.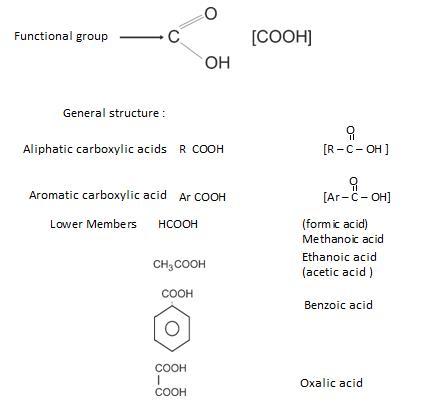 Nomenclature of Carbonyl Group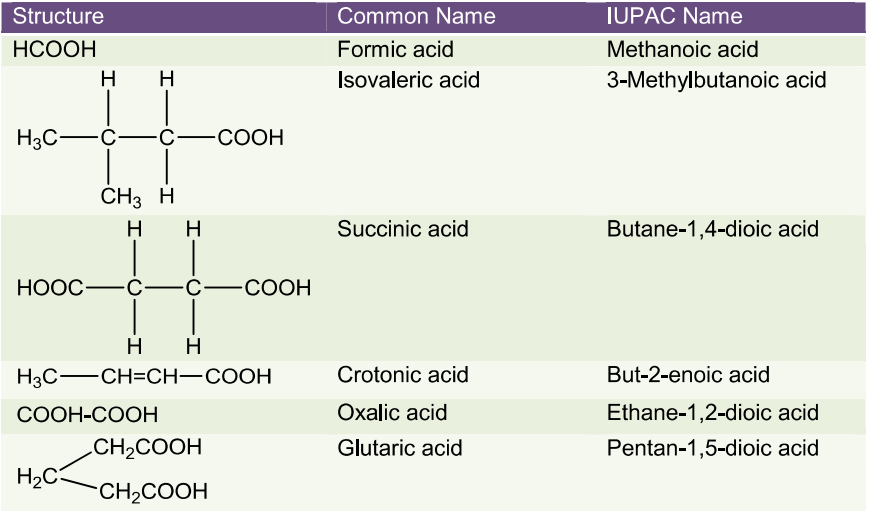 Structure of Carbonyl Group
The bonds to the carboxyl carbon in carboxylic acids lie in one plane and are separated by about 120°. Due to possible resonance structure given below, the carboxylic carbon is less electrophilic than carbonyl carbon.

Preparation of Carboxylic Acids
From Primary Alcohols and Aldehydes
Primary alcohols undergo oxidation with the help of oxidising agents like potassium permanganate in neutral, acidic or alkaline media or by potassium dichromate and chromium trioxide in acidic media to give carboxylic acid.

Carboxylic acids can also be prepared by treating aldehydes with mild oxidising agents.

In this method, alkyl benzenes on vigorous oxidation with chromic acid or acidic or alkaline potassium permanganate yield aromatic carboxylic acids.
Primary and secondary alkyl groups are oxidised in this way while tertiary groups remain unaffected.

Substituted alkenes can also be oxidised using the same oxidising agents to yield carboxylic acids.

Nitriles on hydrolysis give amides and then they are converted to acids in the presence of H+ or OH- catalyst.
Use of mild reaction conditions is done to stop the reaction at the amide stage.
Grignard reagents on treating with carbon dioxide form salts of carboxylic acids which on acidification with mineral acid give corresponding carboxylic acids.

From Acyl Halides and Anhydrides
Acid chlorides on hydrolysis with water give carboxylic acids or readily undergo hydrolysis with aqueous base to give carboxylate ions which on acidification give corresponding carboxylic acids.
Anhydrides on the other hand undergo hydrolysis with water to give corresponding acids.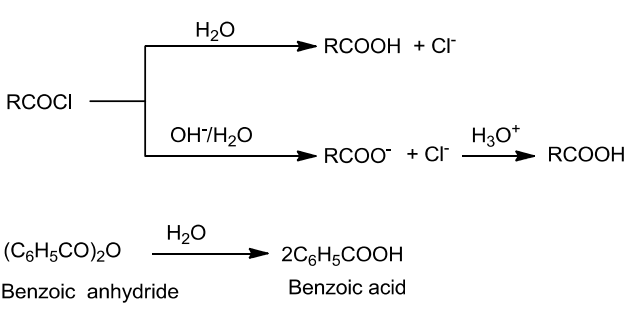 Esters on hydrolysis with acid give acids directly while basic hydrolysis give carboxylates which on acidification give corresponding acids.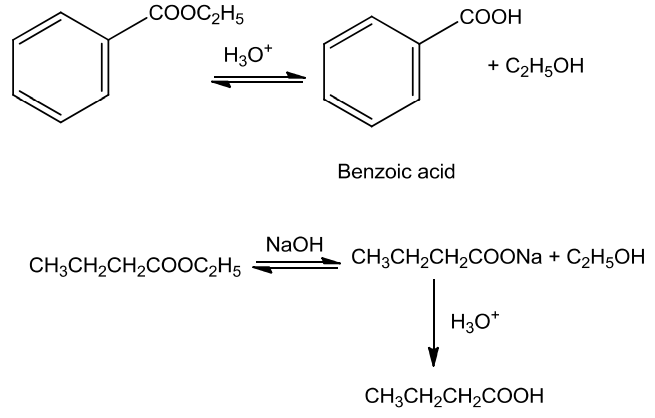 Chemical Reactions of Carboxylic Acids
Reactions involving cleavage of O-H bond
Acidity

Carboxylic acids react with metals to form salts with the evolution of hydrogen gas.
They also react with weaker bases such as carbonates and hydrogen carbonates
This reaction is used to detect the presence of carboxyl group in an organic compound.
Carboxylic acids dissociate in water to give resonance stabilised carboxylate anions and hydronium ion.

Acidity of carboxylic acids: Carboxylic acids are more acidic than phenols. The strength of acid depends on the extent of ionisation, which in turn depends on the stability of anion formed.
Effect of electron-donating substituents on the acidity of carboxylic acids: Electron-donating substituent decreases the stability of carboxylate ion by intensifying the negative charge and hence decreases the acidity of carboxylic acids.
Effect of electron-withdrawing substituent on the acidity of carboxylic acids: The electron-withdrawing group increases the stability of carboxylate ion by delocalising negative charge and hence increases acidity of carboxylic acid.
The effect of the following groups in increasing acidity order is:
Ph < I < Br < CI < F < CN < NO2 < CF3
Effect of the number of electron-withdrawing groups: As the number of electron-withdrawing groups increases, the —I effect increases, increasing the acid strength.
Effect of position of electron-withdrawing group: As the distance between electron-withdrawing group and carboxylic group increases, electron-withdrawing influence decreases.
Reactions involving cleavage of C-OH bond
Formation of Anhydride
Anhydrides are obtained on treating carboxylic acids with mineral acids such as H2SO4 or with
P 2O 5.

Esterification
Esters are formed on treating alcohols or phenols with carboxylic acids in the presence of conc. H2SO4 or HCI gas as a catalyst.

Reactions with PCI5, PCl3 and SOCl2
On treating with PCI5, PCl3 or SOCl2, the hydroxyl group of alcohols is replaced by chlorine atom. SOCI2 is preferred since the two products formed are volatile and escape easily making the purification of the products easier.
RCOOH + PCl5 → RCOCI + POCI3 + HCI 3RCOOH + PCI3 → 3RCOCI + H3PO3 RCOOH + SOCl2 → RCOCI + SO2 + HCI
Reaction with Ammonia
When carboxylic acids are allowed to react with ammonia, ammonium salt is formed which on further heating at high temperature gives amides.


Reactions involving -COOH group
Reduction
On reduction with reducing agents like LiAIH4 or diborane, carboxylic acids are reduced to primary alcohols.

Decarboxylation
Sodium salts of carboxylic acids on heating with sodalime lose carbon dioxide to form hydrocarbons. The reaction is known as decarboxylation.

Substitution reactions in the Hydrocarbon
Halogenation
Carboxylic acids with a-hydrogen atom undergo halogenation at the a-position on treatment with small amount of red phosphorus to give a-halocarboxylic acids. The reaction is known as HeII- Volhard-Zelinsky reaction.


Ring Substitution
Aromatic carboxylic acids undergo electrophilic substitution reactions in which the carboxyl group acts as a deactivating and meta-directing group.
They however do not undergo Friedel-Crafts reaction because the carboxyl group is deactivating and the catalyst aluminium chloride (Lewis acid) gets bonded to the carboxyl group.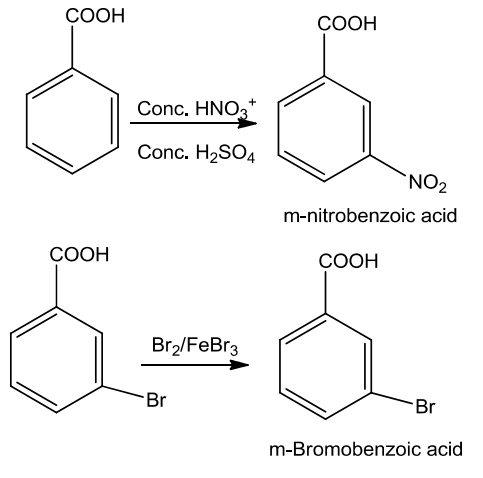 Comparison of acidic strength of alcohol , phenols and carboxylic acid
If we compare Alcohol and carboxylic acid, we see that :

It's seen that more the ion is stablized , more the reaction will be favoured in found direction.Below you can see carboxylic acid is resonance stabilized. So, it is more stable and on the other hand the R group attached to O- in alcohol intensifies its charge. Hence, the stability is lowered in mparison to carboxylic acid.

Phenols and carboxylic acid : Acidic character
Similarly, if we look for phenoxide ion and carboxylate ion that is formed by phenol and carboxylic acid after loosing hydrogen ion, we can easily make out that carboxylate ion is more stabilized. In it negative charge resides on electronegative ion (resonating structure ) whereas in case of phenoxide ion the negative charge is on carbon.let's see. the structures below :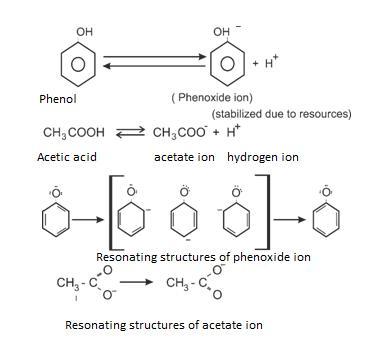 That is the reason ,carboxylic acid is stronger than phenols .
Reactions to prove acidic character of carboxylic acid
Reaction with metal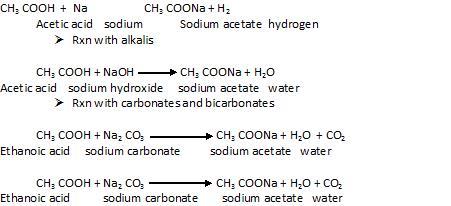 Reaction involving OH group:
In this we react carboxylic acid with compounds like With PCl5, PCl3, SOCl2.

Reaction with alcohol : Esterification

Reaction with NH3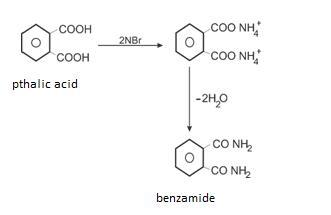 Formation of acid anhydride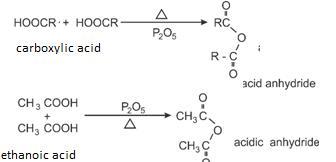 3.Reaction involving COOH group
Reaction of carboxylic salt of Calcium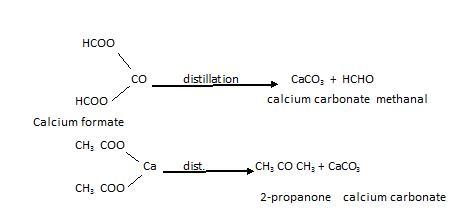 Partial Reduction
The acids on reduction in presence of reducing agents like are Li AlH4 etc forms alcohols that is :
Complete reduction :
When complete reduction is carried out, it forms alkane in presence of red Phosphorous that is :

Special name reactions

Ring subsitution reactions :
Bromination

Sulphonation

Nitration

Uses of carboxylic acid
Methanoic acid is used as coagulating agent in rubber industry.
Benzoic acid is used as antiseptic and also in perfumery.
Ethanoic acid is used as solvent and also in cooking as vinegar and much more.
Reaction involving COOH group