Muscle Legends codes: If you're an avid gamer and a fitness enthusiast, you've probably come across Muscle Legends, one of the most popular games on the Roblox platform. With its engaging gameplay and emphasis on building and strengthening your virtual muscles, Muscle Legends has garnered a dedicated fan base. To enhance your gaming experience, developers often release codes that unlock various in-game rewards, such as free strength boosts, gems, and exclusive items. In this article, we'll delve into the world of Muscle Legends codes, providing you with the most up-to-date information and tips to maximize your gains.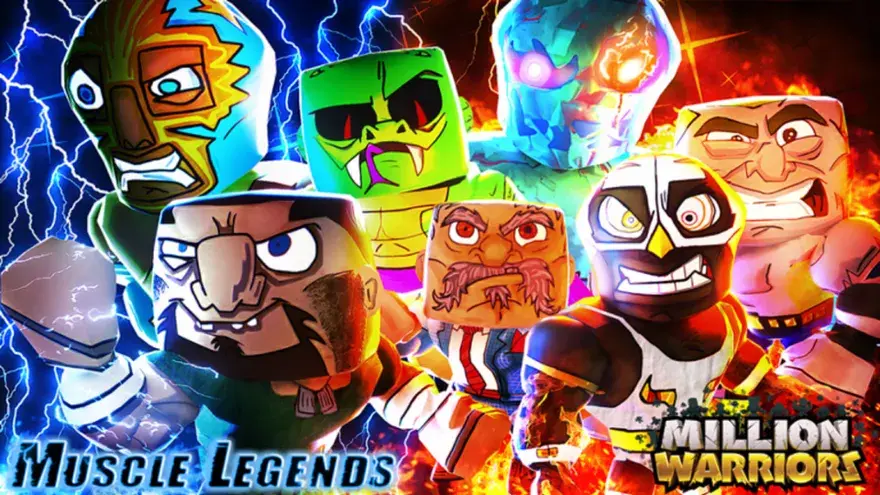 Latest Muscle Legends codes September 2023
Latest Muscle Legends codes September 2023, Last checked on: June 12th, 2023
EpicReward500: 500 Gems
FrostGems10: 10,000 Gems
GalaxyCrystal50: 5,000 Gems
Launch250: 250 Gems
MegaLift50: 250 Strength boost
MillionWarriors: 1,500 Strength boost
MuscleStorm50: 1,500 Strength boost
SkyAgility50: 500 Agility boost
SpaceGems50: 5,000 Gems
Speedy50: 250 Agility boost
SuperMuscle100: 200 Strength boost
SuperPunch100: 100 Strength boost
Active Muscle Legends Codes
To save you time and effort, we've compiled a list of currently active Muscle Legends codes:
MUSCLES10 – Redeem this code for 1,000 strength.
EPICBIZ – Redeem this code for 1,000 gems.
LEGENDS500 – Redeem this code for 500 gems.
SUPERSWOLE – Redeem this code for 500 strength.
RELEASE – Redeem this code for 250 gems.
Remember to check back frequently as new codes are often released. By staying up-to-date with the latest codes, you can maximize your progress and stand out among your peers.
How to redeem codes in Muscle Legends
Redeeming Muscle Legends codes is a straightforward process. Follow the steps below to unlock your rewards:
Launch the Muscle Legends game on Roblox.
Look for the Twitter icon located on the left side of the screen. Click on it to open the code redemption window.
Enter the code you want to redeem into the text box.
Click the "Redeem" button to claim your rewards.
Enjoy the benefits of your redeemed code!
It's important to note that codes in Muscle Legends have expiration dates, so make sure to redeem them as soon as possible to avoid missing out on valuable rewards.
Passes are permanent Muscle Legends buffs you can purchase from the Muscle Legends store. The only way to get these boosts from purchasing them with Robux. We've listed all the passes you can get in Muscle Legends below.
Pass
What you get
Robux Price
x2 Strength
When training, earn double Strength
349
x2 Rep Time
Quickens up all reps
499
x2 Gems
Earn double the Gems
249
x2 Durability
When training, earn double Durability
299
x2 Agility
When training, earn double Agility
299
+20 Capacity
Gain 20 extra item capacity
*This stacks with +60 capacity
99
+60 Capacity
Gain 60 extra item capacity
*This stacks with +20 capacity
289
+2 Pet Slots
Equip two extra pets
499
Tips for Maximizing Your Gains
While codes can provide a helpful boost, it's essential to focus on building your strength and skills to become a true Muscle Legends champion. Here are some tips to help you make the most of your gaming experience:
a. Regularly Exercise in the Game
Consistency is key when it comes to developing your virtual muscles. Make it a habit to spend time in the game, engaging in exercises and training activities. The more you participate, the faster your progress will be.
b. Join Competitions and Events
Muscle Legends often hosts competitions and events where players can showcase their strength and skills. Participating in these events not only allows you to test your abilities against other players but also gives you a chance to win exclusive rewards and recognition.
c. Upgrade Your Equipment
Investing in better equipment can significantly improve your performance in the game. As you progress, make sure to upgrade your weights, machines, and accessories to enhance your virtual workouts.
d. Connect with the Community
Engaging with the Muscle Legends community can provide valuable insights and tips. Join forums, social media groups, and Discord channels dedicated to the game to connect with like-minded individuals, share strategies, and learn from experienced players.
5. Conclusion
Muscle Legends is not just a game; it's an opportunity to unleash your inner strength and dominate the virtual fitness world. By utilizing Muscle Legends codes and following the tips provided in this article, you'll have an edge over other players and achieve greatness within the game. Stay tuned for new code releases, and remember to keep challenging yourself to reach new heights of muscular prowess. Get ready to flex those virtual muscles and make your mark in the world of Muscle Legends!